Posted By: "Kim"ball
Like to Introduce Myself! -

03/23/10

06:00 PM
My name is Kim (hence the "Kim" in the username) and I just picked up a Kimball (again the ball in the username LOL) player piano. I have had it for 2 weeks now! I have to say I love it!! It is a great addition to the house and my kid (20yrs old) enjoys playing the player rolls. I do too, but I also want to learn to play the real thing too!
I am as new as they come when it comes to playing the Piano and reading music. So you could say I pretty much know nothing about both! LOL I am currently teaching myself how to play. I picked up 3 lesson books consisting of, Alfred's Basic Lesson Book Level 1A (for kids), Alfred's Adult All in One Course Level 1, and Afred's Basic Adult Piano Course Lesson Book Level One! The first and last mentioned books have CD's included. I am currently working out of the "kids" book. Figured I need to start at the beginning! I like it but I find the CD to be of no use. At least for the first couple songs that I listened to. The CD includes other instruments playing along with the songs I am trying to learn and it is hard to actually hear the 'Piano' playing to hear what the song is supposed to sound like with just the piano, like I am playing! Meaning I don't have other instruments playing with me, so I don't want to hear the other instruments, just want to hear the piano! Wish they made the CD's that way!
When I was in High School I took music and played the recorder. Back then I could read music. It has been about 5 years (ok, I am lying there! LOL), been about 20 some odd years since then. I also tried to learn Guitar about 2 years ago and tried to learn to read music again. That didn't last to long and I slowly gave it up! I could play the chords for Horse with No Name (can't remember name of the song, but sure you know what I'm talking about!) and that was about all.
About a year ago I tried to learn to play the keyboard. I had bought it for my son and he never played it, so I decided to try it. Problem was, I had no where to keep it, so it eventually got put away. During that adventure I learned where some of the keys were and how to place my hands for the "C Position". That little bit has actually helped me in now learning to play on my actual Piano.
The nice thing about this Piano is we made room for it and it can't be put away! LOL It is not in the best spot, but it will always be available to play. Also, if I get discouraged with my playing (practicing), I can always just slip in a roll and play beautiful music! That is also what has peaked my interest to play!! Hearing the rolls and want to eventually play those songs myself!
I would say the only thing I have concerns about is tempo. I am no good at keeping time. Not sure if that will come in time or not, but it is one of the reasons I am opting not to get a teacher yet. I want to learn to read the notes and play a few songs I recognize and know how fast or slow they are supposed be played, first, then I may get a teacher to go beyond that!
So far I can only play Old MacDonald and Jolly Old Saint Nicolas pretty good. That is just using the number system and the black keys. I am working on the white keys now and actually trying to learn the notes. Last night I was able to play what the book calls "A Happy Song" almost flawlessly! Which is pretty good for me! LOL I know it seems like peanuts to most of you! LOL If you are ever at a music store, it is page 34 of the "kids book" mentioned above!
I know this has been long but I have so much to share! LOL I will end here with some pics of my Piano!
Picking her up!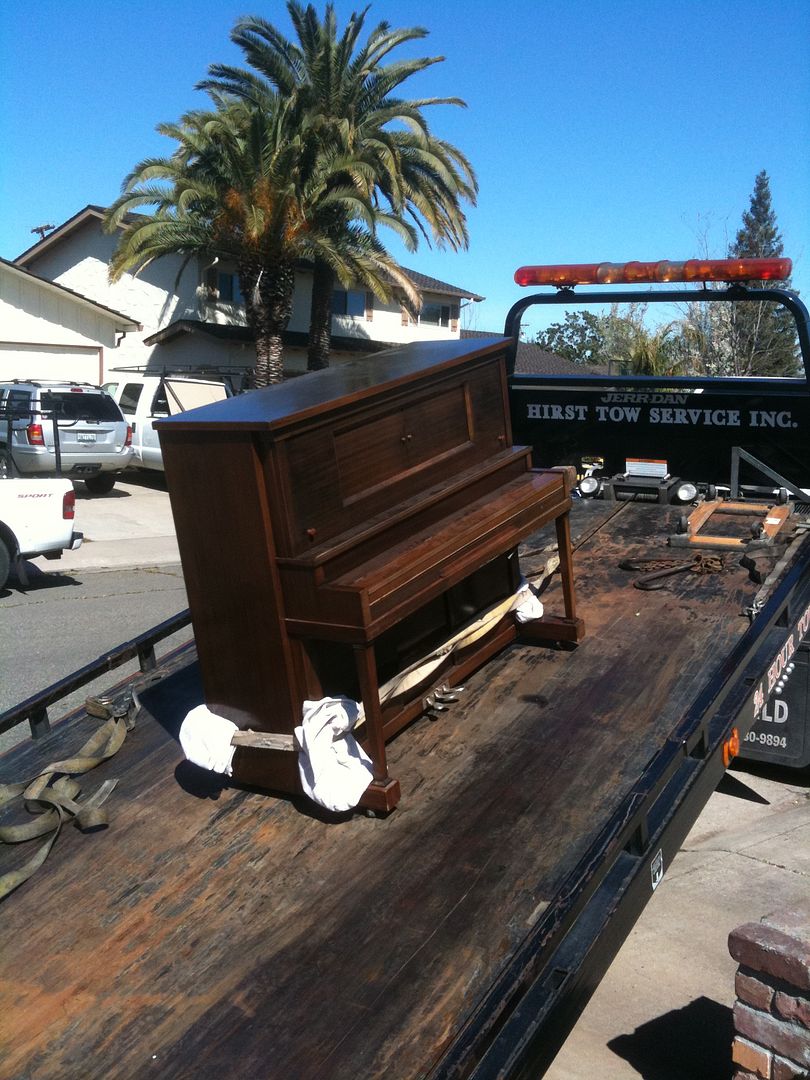 Hubby is a tow truck driver so we brought her home ourselves!
Here is a shot with her roll door open!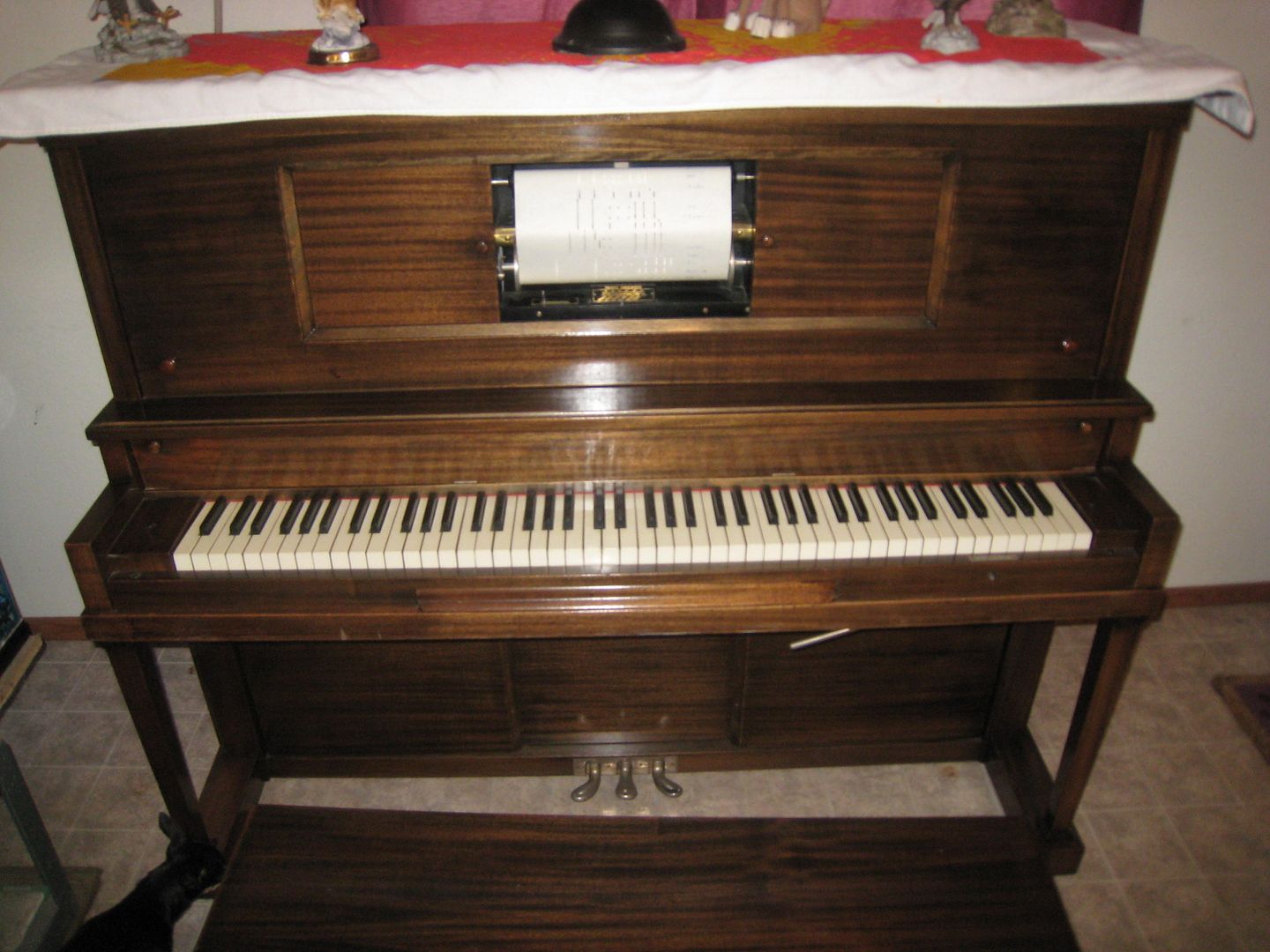 She is not in the best spot currently, but I am going to work on getting her on an inside wall asap! Right now she is in front of a North facing window. She won't get any sun, but I am worried about any drafts. Luckily it is spring now so the damp days are pretty much behind us! There is an a/c unit just to the left of her and I want to remedy that soon too! I plan on swapping areas with my desk, then she will be all nice and cozy!!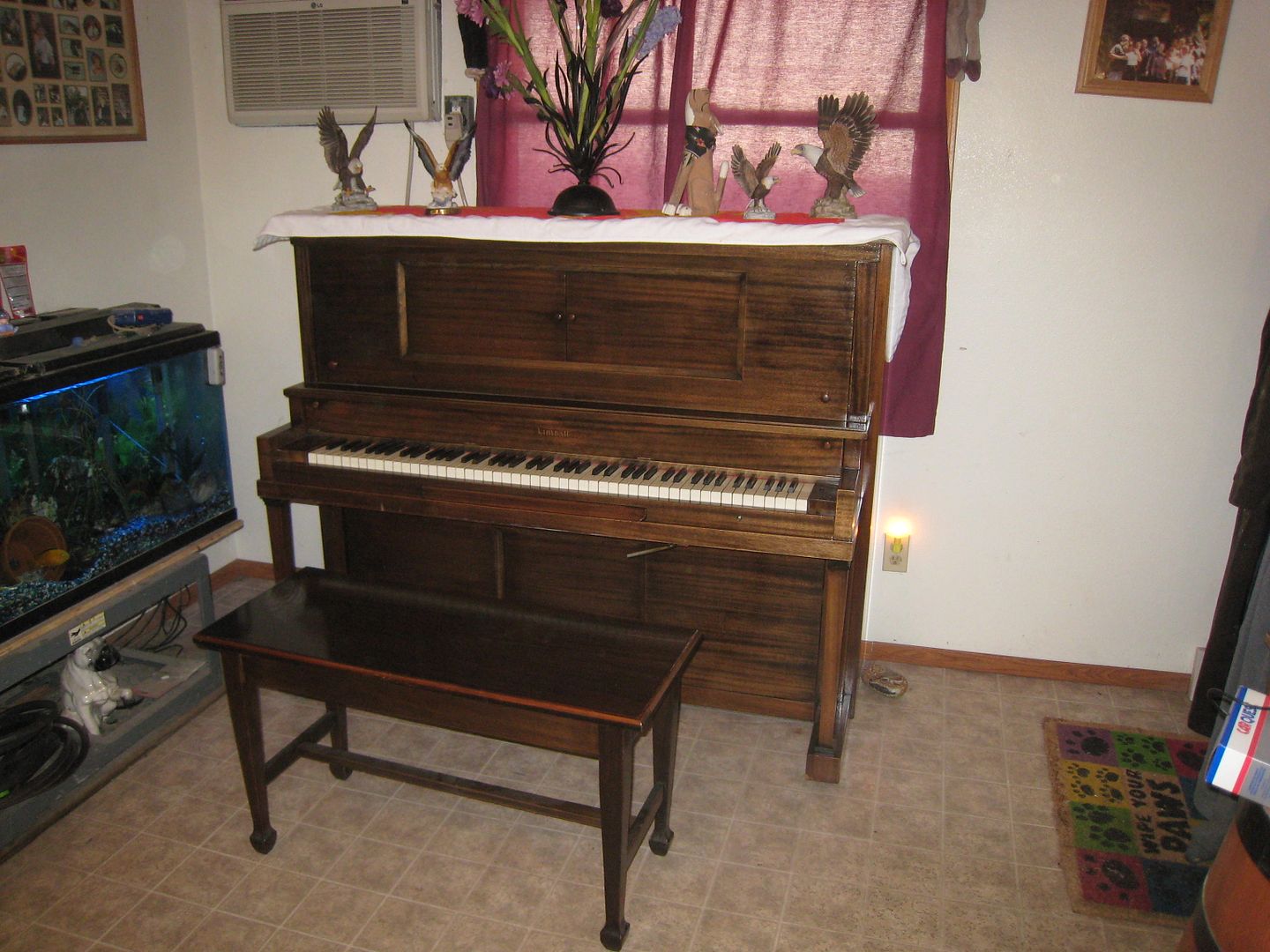 Well, that is all I can think of for now! LOL I know, it was a lot!
I hope to learn alot from the site so I am looking forward to looking around here!!