Posted By: berninicaco3
how to remove harp/plate? -

07/01/13

05:05 AM
Ready to remove!
We're looking at it, and how it might come out, and it looks tricky.
There in the upper right of the photo is a steel post with a threaded rod inside of it, that comes up through the plate.
Is there a way to remove that? I see 2 flat spots on the post (between soundboard and plate) and can turn it a little, before it stops. Haven't put much torque on it. Tried putting vise grips (with padding!) around the threaded portion, and it doesn't turn.
The reason being that you can see, in the lower left of the photo, that there's a nice chunk of cast iron wedged under a wooden overhang. To ease the plate laterally out from that overhang, we need that bolt out first-- or it'll stop on the bolt.
I can't see that the bolt passes through the bottom. It seems to terminate in a solid chunk of bracing wood under the case.
What's the best way to remove that bolt?
Or of course if there's another way to get the plate out without removing that bolt.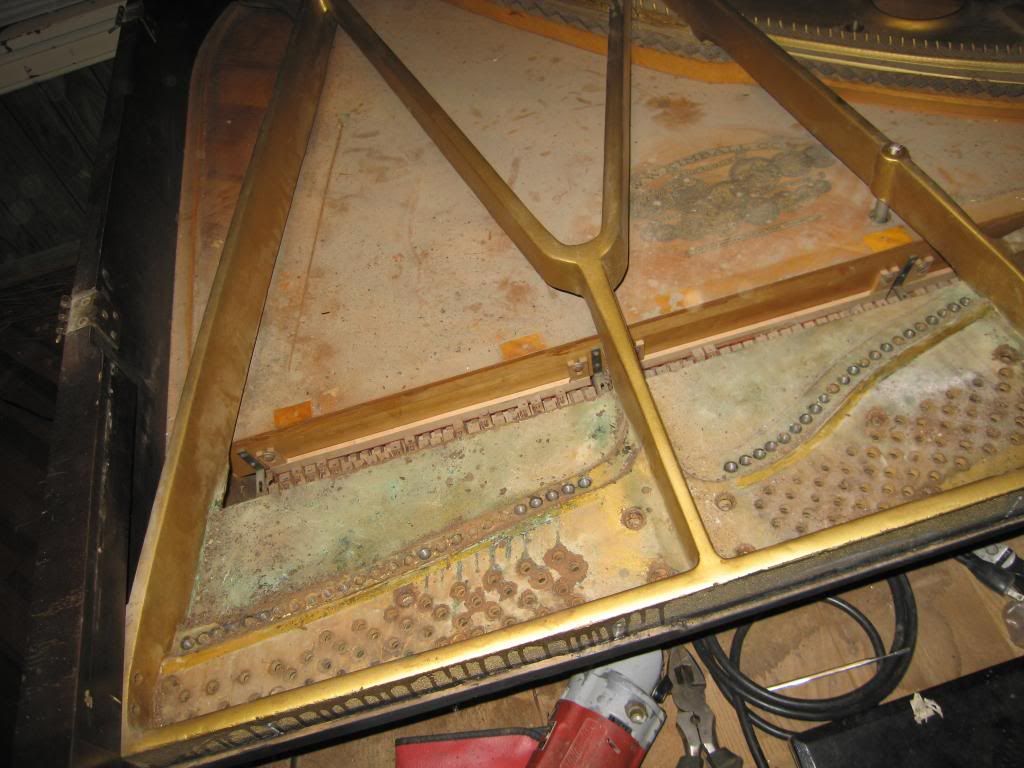 on a side note, a single screw that went from the plate into the pinblock, broke off in the pinblock. Bad metallurgy (you can see the porosity!). Worth extracting and replacing? There ARE 24 screws there, so maybe unecessary.