Posted By: Grandpianoman
My Piano in EBVT III -

03/04/10

08:21 AM
Greetings all,
Last week, as many of you here on PW may know, Bill Bremmer flew out to my home and tuned my piano in his "EBVT III" Temperament. During the day on Saturday, Bill tuned the piano, and that evening I had a small group of frends over to hear the results and enjoy an evening of piano music. I also met Randy Potter who made the drive down from Bend, Oregon, and joined us for the afternoon and evening. We all had a great time. After Bill finished tuning, Randy Potter sat down at the piano, played it a bit, looked up at Bill and said "I want to tune my piano this way".
Earlier in the week, my piano rebuilder, Randy Cox, flew up from LA to install a new backaction kit from Wessell Nickel&Gross. (Thanks to Gene Nelson here on PW for posting back in Sept about this kit, and to WNickel&Gross for an excellent product) While it took a bit of work to get it in there, the resulting playback of both the Ampico and the LX is now in a class by itself. Both mechanisms play the piano now with such preciseness and finesse, it's beyond my expectations. Here is a picture of the damper tray during the installation.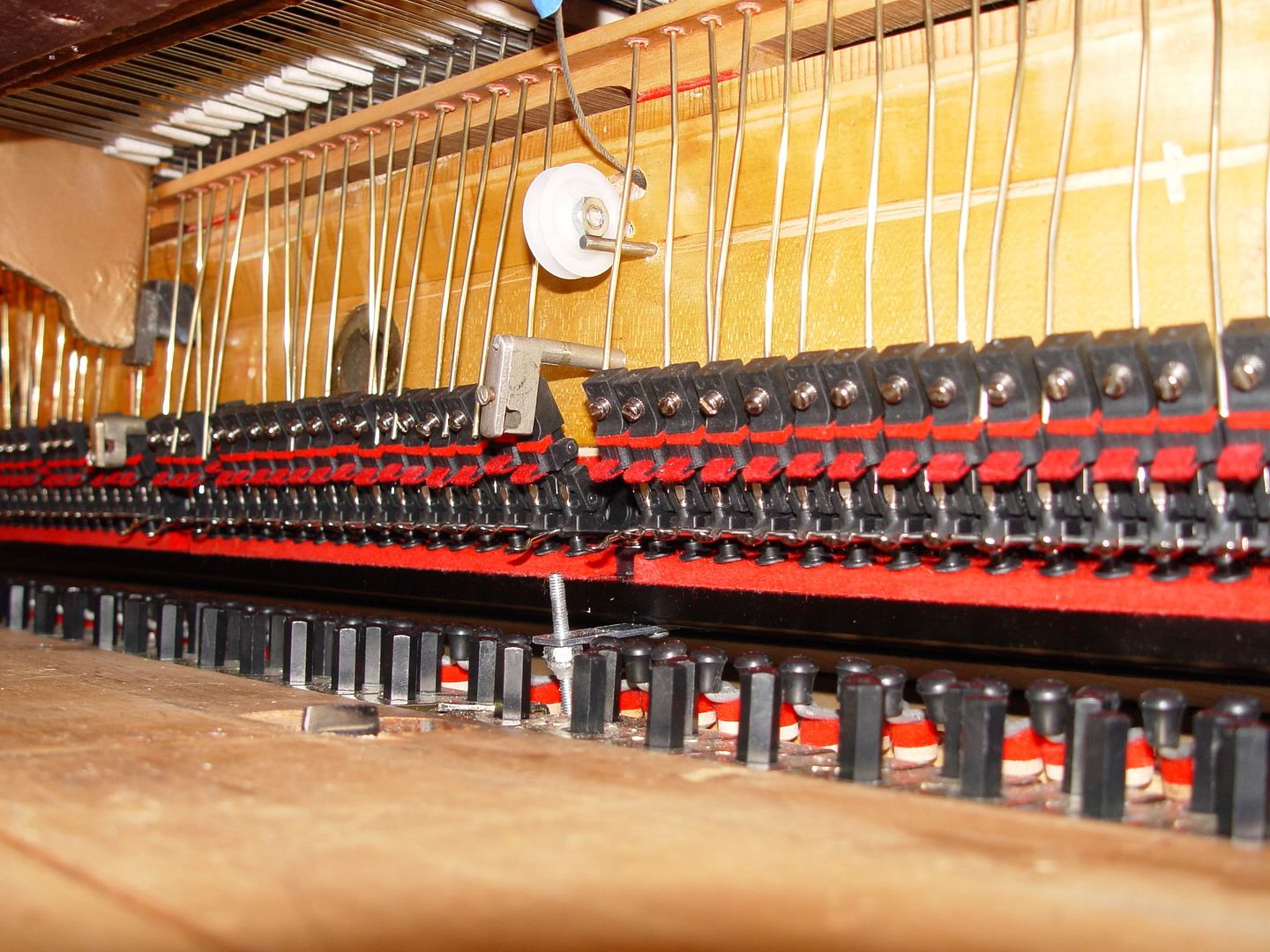 The carbon-fibre is so much lighter and quicker than the wood, so as a result, the Ampico and the LX have less resistance lifting the dampers which equals more precise playback. Each note has 3 adjustments and operate differently than the the old tray, which had no adjustments. The resulting playback is so crisp and clean, it's like a new piano! The rail itself is made out of aluminum...overall, it's a great product!
I wanted to record Bill's tuning right after he finished, but because we had guests coming, I did not have the time to record. I did record 2 days later, after Randy Cox was finished adjusting the Ampico and LX. As a result, the tuning is not quite like Bill left it...some unisons are out, and the piano fell a bit flat in spots. Another factor is that we pounded the upper 2 treble sections pins down the night before Bill arrived, that, and the fact that both player systems really play the piano hard, more so than a real artist, so the tuning is not as pristine as when Bill left it, but you can get a very good idea of the EBVT sound. As Bill said, "I believe there are two factors here. One is that in spite of the extraordinary time taken to tune the piano, especially the unisons, the player system drives the piano as hard or harder than the most exuberant artist. It would be expected that the day after, a broadcast quality tuning would need to be freshened up.
Secondly, the fact that the piano generally went flat to some degree points to heat generated from the player systems. The latter is perhaps more significant than the former."
Bill brought his Sanderson ETD and recorded every note for me. I now have this tuning record installed in my ETD's and I will be able to replicate Bill's tuning in the future.
I have never heard my piano sound this good. There is something "right" about this EBVT III. Every piece I played sounds great.
For those of you who are not familiar with my piano, it is a 1925 Mason & Hamlin 7ft RBB. The entire rebuilt piano, including the installation of both mechanisms, was done by Randy Cox of Anaheim Hills. It has Ari Isaac's Cadenza "S" hammers and his bass strings. It also has the Wapin bridge conversion done by Roy Peters, who posts here on PW.
http://www.wix.com/petersrpt/peters-piano
It also has both a rebuilt Ampico Piano Roll reproducing system from the 1920's and the LX playback system from
www.live-performance.com
Here are a few Ampico and LX selections in this EBVT III. Enjoy, and there will be more coming in the future.
A big thank you to Bill Bremmer for taking the time come out to my home and do his magic. It was also a pleasure to meet Randy Potter. We all had a great time! GP
1. Ampico Piano Roll: "Reflets dans L'eau" by Debussy played by Leo Ornstein played on the Ampico
http://www.box.net/shared/4i7phr8ezs
2. Earl Wild plays Chopin on the LX
http://www.box.net/shared/t0kgk4oqfu
3. Ampico Piano Roll: "The Torrent" composed and played by Leslie Loth on the Ampico
http://www.box.net/shared/axl7oyhuad
4. Ampico Piano Roll: "Etude Tableux" composed and played by Sergei Rachmaninoff on the Ampico
http://www.box.net/shared/4k7r0qaybf
5. Gershwin's "Our Love is Here to Stay" on the LX
http://www.box.net/shared/0i7ajimsmx
6. Gershwin plays Gershwin "Rhapsody in Blue" on the LX taken from the Duo-Art Piano Roll
http://www.box.net/shared/mf14vmvryl
7. Gerold Robbins plays Scarlatti on the LX (from the Bosendorfer SE recordings) converted to the LX format by Wayne Stahnke.
Scarlatti Four Sonatas
1. Sonata in C minor, K.11
2. Sonata in G. K.14
3. Sonata in E, K.531
4. Sonata in A, K.533
http://www.box.net/shared/e6oakti0yd