Posted By: Nahum
Delusions of memory -

07/28/19

07:48 PM
I'm currently working on a solo fragment from arrangement , 11 bars long. Since I am its author, I have no problem understanding what is happening there and what is the musical logic. However, I have a problem with the eighth bar. I.e. I can play it in tempo (74 MM) separately many times without problems; I can play in a tempo all the other bars, too, without any problems. However, when I try to tie everything together, also in tempo , I inevitably stop in front of the indicated piece; neither the hands nor the head remember what follows next. Imagine that the day before yesterday and yesterday I worked on it for 3 hours, today it is 5 hours, but there is no improvement. It is interesting that only exactly in this place!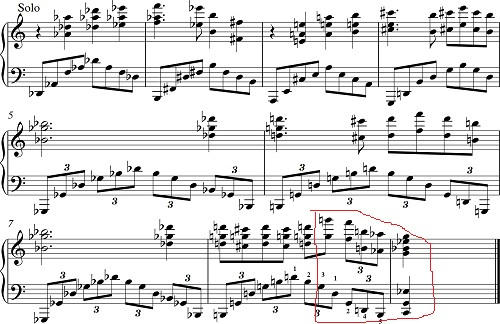 I would say this: music in previous measures pushes the ending out from auditory and tactile memory; and at the same time between all the other bars this does not happen.
Maybe someone will have an idea how to approach this (playing at a slow pace is already a completed stage).