Posted By: Terrytunes
M&H 2005 Tour Review - Haverhill, MA -

05/11/05

01:22 AM
This was my 2nd opportunity to enjoy the M&H tour in Haverhill, MA. Special thanks to Kirk and Gary Burgett and all others at M&H who assisted in providing this exclusive opportunity to PW members and their guests.
Bruce Clark, M&H piano engineer, provided another excellent guided tour. Bruce shared with us an abundance of piano mfg knowledge providing a very detailed tour from rim bending up to the final testing; thoughout all 6 floors Bruce described in detail all the specifics necessary to produce the fine quality pianos that M&H is known for.
Cecil Ramirez, sales mgr west coast, joined in making us feel welcomed and answering any and all questions. So nice to see you once again, Cecil and to hear your rendition of, STWOM.. live!!
As always a wonderful time to gather with members. I am getting so spoiled by the multiple gatherings. As soon as one gathering is finished, I'm left wondering how soon will I have to wait for another!!
PW members in attendance and many with guests included; Frank Baxter, our fearless leader, Axtremus, Leebea, Jeffo, Lilylady, Rustyfingers, A441, JazzManToo, Chris Aher, and special appearance by a lovely young couple who traveled from MI to join us. It was a pleasure to meet you, Rachel and Brad (aka bklaty). I hope that you enjoy the rest of your time in the area and that you have a safe arrival home.
So, on with a few pictures...
Bridge notching craftsman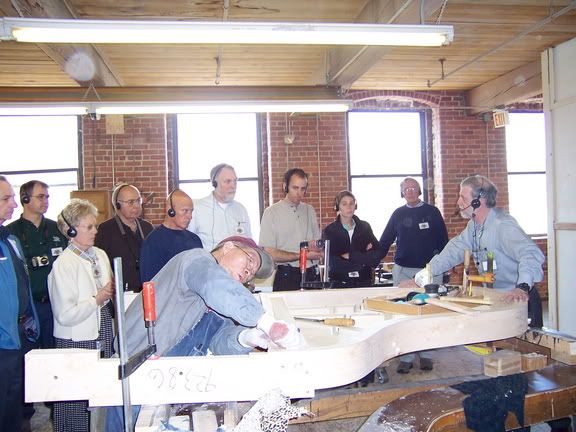 Lilylady (aka Roberta) w/Kirk Burgett.. possibly this could be the beginning of a fantasy piano for Lilylady!!
Rache/Brad (far left) aka bklaty joining us from MI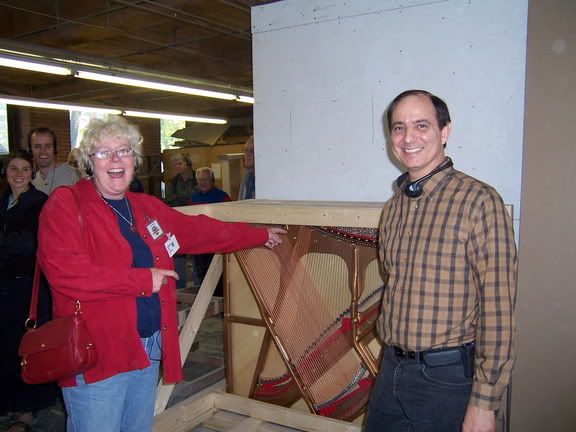 AAAAHHHhhhhhh! Lunchtime!!
A high polished instrument and performer; A441/Jeremy and Roberta (guest)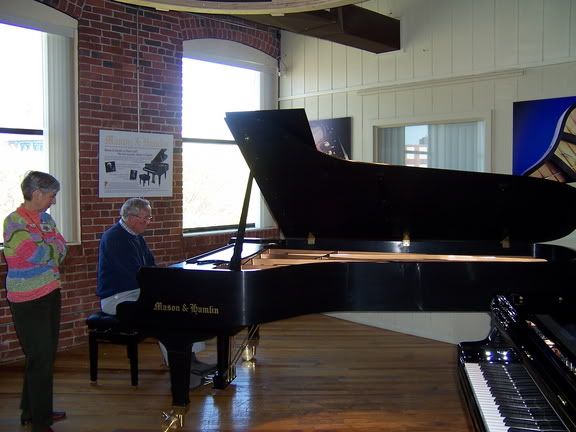 Some great listening vibes from our very own JazzManToo!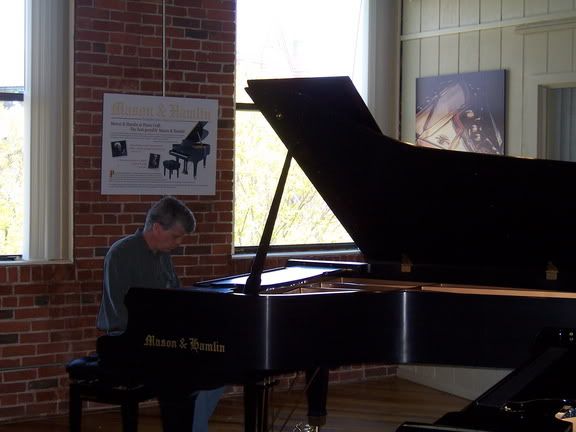 MA PW Gathering Piano Pile-Up ~ Members and Guests - M&H Tour 2005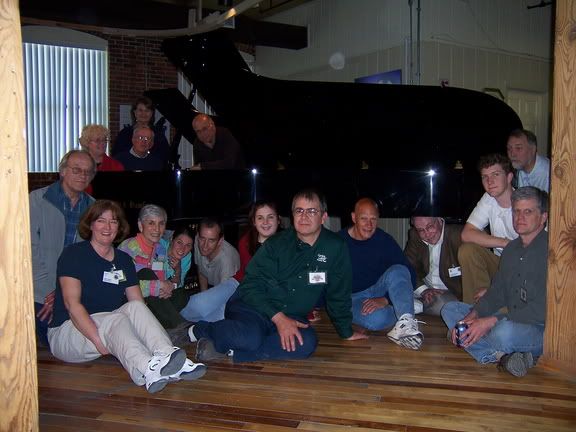 I have more tour pics and will post them tomorrow evening.