Posted By:

Piano World
VOTE for New PW Mugs -

02/01/08

05:06 PM
I'm thinking of getting new mugs for Piano World.
Thought we might go with travel mugs this time (so you can take them with you when you travel to Piano Forums Parties :-)
However, some folks prefer a regular mug, as they don't really use the travel mugs they have now. So... We'll put it all to a vote.
These will probably sell for around $7.95
Likely have the PW logo on one side, and either
www.PianoWorld.com
on the other, or World Famous Piano Forums.
# 1
# 2
# 3
# 4 is a Regular Ceramic Coffee Mug
And don't forget, you can still get your official Piano Forums Lapel Pins here...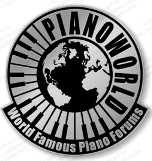 PWPF Lapel Pins
And the official PWPF 2-CD piano solo set...

HERE