Posted By: Steve Cohen
What Goes Around Comes Around! ( A long story.) -

02/10/13

03:29 PM
Since my family and, of course, our business relocated from Philadelphia to Baltimore in 1957 and continuing through 2007 we have been in direct competition with Baldwin. Kunkel Piano Company was the oldest Baldwin dealership in the U.S. and they had stores within a few blocks of our locations. Our family business, Jasons Music Center was the oldest Yamaha dealership in the U.S. having started representing Yamaha in May, 1960.
The competitive situation was very interesting. Both Jasons and Kunkel were family-owned operations, and Francis Kunkel was about the same age as my father Irv, and his son Craig was about my age. We took over the reins from our fathers at about the same time. Both operations were "old school" dealerships and both earned excellent reputations for honesty and integrity.
In those early years the Baldwin/Yamaha comparisons were dynamic and often cited, and the fact that Yamaha was "mass-produced" was a key issue. After all they were the only one made that way. Also keep in mind that these were the days when Japanese products were inevitable compared to the "cheap transistor radio." "Quality" and "Made in Japan" were mutually exclusive terms in the minds of the U.S. market!
To say that the Baldwin Hamilton 243 dominated the public school market would be a vast understatement. Until the introduction of the Yamaha P202 (forerunner to the P22), virtually the only piano found in schools was 243s and Baldwin grands. The Yamaha G7 (now the C7) sold for less than the Baldwin baby grand. The P202 retailed for about $1000 less than the 243. Back in those days the industry watched the competitive situation in Baltimore very carefully, using it to try to predict scenarios in other markets. Craig Kunkel retired a few years ago, soon after Baldwin's acquisition by Gibson. There has been no Baldwin dealer here since.
Why do I bring all of this up, you might ask. Well, yesterday we unpacked our first shipment of Baldwin pianos as their new dealership for the Baltimore/Washington and Northern Virginia market. Adding Baldwin pianos to our current offering of Kawai (in the Baltimore Market only), Pramberger, used/rebuilt Steinways, Mason & Hamlins and Yamahas, puts us in a better position to fulfill the musical needs of our shoppers.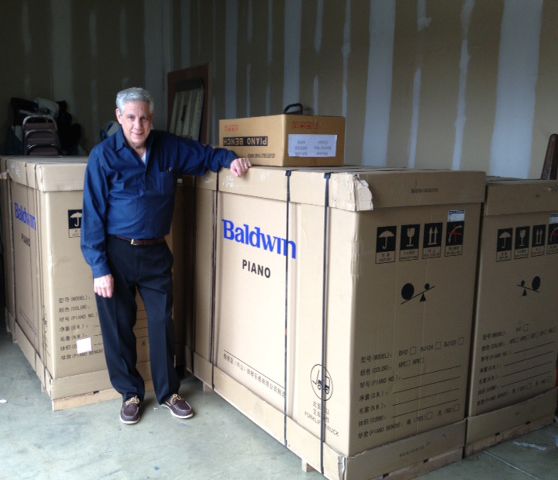 As a major contributor here, a contributing editor of Piano Buyer, and as a consultant to the piano industry I felt that this story might not only be interesting, but needed to be posted for transparency. (it is rumored that Baldwin will be rated as Tier One pianos in the upcoming issue of Piano Buyer.
Having been in the business all my life, I have learned not to burn bridges. What goes around really does often come along!