In-Tune, the Piano World Piano Forums Newsletter
November 2009
About "In-Tune"
In-Tune is the newsletter for piano lovers.

Much of the material for In-Tune comes from our world famous piano forums.



Check the In-Tune Newsletter Archives to see what you've been missing and catch up on what's been happening!


---
Samick Invests In Steinway


Posted by member Steve Cohen...

Steinway Announces Agreement for Private Placement of Common Stock; Will Appoint New Director

WALTHAM, MA - November 5, 2009 - Steinway Musical Instruments, Inc. (NYSE: LVB), one of the world's leading manufacturers of musical instruments, today announced that it has signed an agreement with Samick Musical Instruments Co., Ltd. for a private placement of 1.7 million shares of its ordinary common stock at a price of $16 per share, approximately 37% above the closing market price on October 28, 2009, the date the parties set the purchase price. Steinway intends to use the proceeds of approximately $27 million to retire outstanding debt and for general corporate purposes. Samick was also granted the right to purchase by March 31, 2010 an additional 1.7 million shares of ordinary common stock at an exercise price of $16 per share.

The Rest of the Story
---
Piano Forums Piano Cruise - It's Going to be Fun - Join Us!

Our first Piano Lover's Cruise is coming up fast. Join us for the fun.

Read about the cruise and the ship details ... Piano Forums Piano Cruise
&nbsp:
---
Sheet Music Wall of Fame



My thanks to the members who have sent me sheet music for the "Sheet Music Wall of Fame".
For details about the project and/or information about where to send your used sheet music, please see Sheet Music Wallpaper Thread
The project is still going, please consider donating some old sheet music.
---
Piano Party Time!



There are a few new Piano Parties coming up soon.

What's a Piano Party? It's when people who share your affection for the piano get together (usually at someone's home, sometimes at music stores or other venues) to have a great time playing the piano, talking, and of course, drinking & eating. The majority of the attendees typically have met through the Piano Forums, but they also include friends and neighbors who may not be familiar with the PW Piano Forums (yet).

The parties go by various names ... Piano Forums Piano Party, Piano World Piano Party, Piano Gathering, Piano Party, Piano Crawl. That last title usually means visiting various piano stores, although our Cape Cod Piano Party this past summer was like a piano crawl (5 houses, 5 pianos, over 3 days).

If you are planning a piano party, or would like to organize one, please let us know.

Piano Parties Coming Soon
Dec 10 - Dallas/Fort Worth Texas
Dallas/Fort Worth Details
Southern California, Dec. 19
This one is still in the early planning stages, if you're in the area please join the discussion.
California Details
Bend, Oregon, Dec. 1
The Piano Performance Group in Bend Oregon will have a Christmas Party- Piano Party on Tuesday December 1st, 7.00 P.M.
Bend Oregon Information
Post Your Piano Party Details Here
---
advertisement
World renowned concert artist Jeffrey Biegel Reaches Out to Students via Skype!

A distinguished Professor of Piano at Brooklyn College in New York, and protege of the legendary teacher, Adele Marcus at The Juilliard School, Mr. Biegel now offers online interactive lessons for pianists and teachers alike.
Preparing for a competition?
Preparing for a recital or concerto appearance?
Want to improve your playing to teach your students?
Questions about specific repertoire you are learning, teaching or performing?
Jeffrey Biegel has opened his studio worldwide through the technology of the internet. Having created and performed the first live audio/video concerts on the internet in 1997, Mr. Biegel is now able teach on a global level.

Need to brush up on your technical abilities? Need assistance in putting programs together, and audition materials? You can benefit from the life and career of Jeffrey Biegel.
This is not one of those canned video presentation, this is Live, Interactive, Online Lessons!
---
10 Pianos Out In the Street!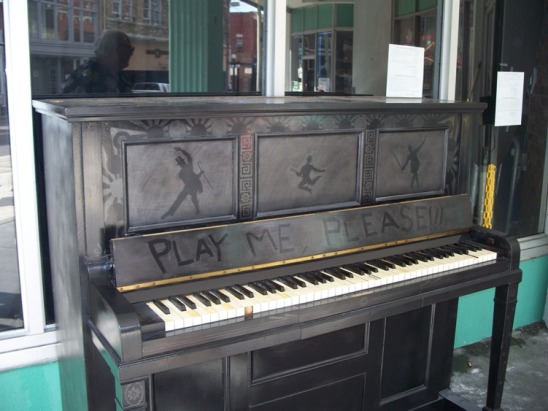 That's right, 10 pianos all outside ... where anyone can play them!

And what fun it is hunting them all down. Ten different pianos in ten different spots around the city. Each one of them painted by a different artist.
10 Pianos Outside - the Details
Read the thread, view the pictures, and join the hunt!
---
Fluid Piano - Composer Reinvents the Piano


"For a non-pianist, the idea of a microtonally fluid piano might seem either no big deal or baffling. But this weekend a composer will reveal the result of a 10-year mission – nothing less than the re-invention of one of the most important instruments in western music."
Read the rest of the article Fluid Piano
---
Misc. Interesting Threads, Tidbits & Stuff


Piano World on CNN?
Why yes, it's true. Piano World on CNN, the thread

Oh, The Places We Tune
from member Eric Gloo ... Pictures and Story
It's actually a very "cool" place :-)

Can Piano Make Exercise Fun?
Apparently this has been discussed before, but I really like the video, so I'm sharing it with you now.
Big Piano = Good Exercise

The Let's Talk Weddings thread continues to grow. If you haven't read it yet, check it out. There are some really funny stories here. Let's Talk Weddings Thread

Some Great Hammond B3 Work
I love hearing someone putting a Hammond B3 through it's paces. Hammond B3 Thread

Can I Say That on the Forums? This one is worth repeating...
According to a recent article in Parade Magazine, you'd better be careful what you post online. Particularly on a popular forum like ours.
And if you think you are being anonymous because you didn't use your real name, and used a junk email address, think again.
Read this post for an idea of What Can Happen When You Say the Wrong Things Online

Keeping Track of Interesting Threads
Found some posts/threads that interest you, but when you come back a few days later, you can't find them?
Here's an easy fix...
At the top of any post (even if you haven't posted in it) is a box "Topic Options", choosing Ad Topic to Your Watched List tells our forums system to send you an email every time there is a new post. Want to stop following a particular thread? Go back to the same box, and choose "Remove Topic from your Watched List"
---
Advertisement

---
NAMM 2010 - Anaheim, CA



The countdown continues. Now it's only about 7 weeks until the big show. January 14-17, 2010.

We would love to see you there.
Let us know if you are planning on attending, or exhibiting. And by all means, let me know if you'd like to meet up while we're out there.
NAMM 2010 Thread

---
European Piano Factory Tours


Longtime member and piano aficionado BoseEric has created a wonderful thread full of great pictures and comments about his recent tours of some highly respected piano manufacturers shops in Europe.
Although Eric works for a particular highly respected piano company, the thread is his personal observations and opinions based on his love for all well made instruments.
His comments are a fun and interesting read but it's the pictures that make you wish you were there.

BoseEric's European Piano Tours
Eric has promised us more pictures and comments in the near future, can't wait.
---
Speaking of European Piano Factory Tours



We hope to put together a tour of the great European piano factories in 2011.
Ideally we'd like to tour the factories, and visit the birthplaces of some the worlds best known composers. Side trips might include theatres, museums, and castles. In fact, we'd love to rent a castle as the center of operations for the tour, with all of our group staying together in the castle.
We already have a standing invitation from Christian Blüthner (Blüthner), Udo Schmidt-Steingraeber (Steingraeber & Söhne), and Indrek Laul (Estonia). Any other manufacturers who would like to host a tour of our group(s)? Please let me know.

If you are interested in joining us for the tour and/or have suggestions for timing and itinerary, please Let Me Know

In the meantime, please join us for our Caribbean Piano Lovers Cruise. What better place to formulate our tour plans then sipping cocktails on the deck of a cruise ship?
---
advertisement - Piano World is an affiliate
---
Have you recently purchased a piano (new to you)?



Let me know where your post is (or some details so I can find it). I'm thinking of creating special sub-forums under the Piano Forum and the Digital Piano Forum specifically for posts about piano purchases. We love stories about new piano owners (and pictures, don't forget picture), but they tend to get lost pretty quickly. It would be nice to have them in one place so others can share in your joy, and learn from your experiences. webmaster@pianoworld.com
---
Can You Help?



If you enjoy the Piano Forums, please consider doing a little something to help support them.
We are a small business that relies on revenue from our advertisers and sale in our online store.
We are surviving, but like most small businesses, money is tight.
Please visit our Help Support the Forums page for some suggestions of how you might help.
---
Concerts and Events



Chicago Amateur Piano Competition Now Accepting Applications
The first Chicago Amateur Piano Competition will be held next year from June 24 – June 27, 2010 (Thursday through Sunday). Applications are now being accepted from amateur pianists who pursue piano playing through love of the instrument and its repertoire, rather than as a professional occupation or for financial benefit. Competitors are expected to be at least 30 years of age at the time of the competition, and may be neither a faculty member at a music school nor a student pursuing a degree in piano performance.

Chicago Piano Competition Additional Details

Russian Pianist Wins Sorantin & $5,000
SAN ANGELO, Texas — A 23-year-old Russian pianist who is a student at Texas Christian University took the top prize over the weekend at the Sorantin Competition, wowing the judges with a performance of the Prokofiev Piano Concerto No. 2.
Our own Jeffrey Biegel was one of the judges.
Russian Pianist Wins Sorantin
---
If You Know About Upcoming Concerts, Recitals, Competitions, Factory Tour, etc. --- Please Share! We're happy to post details about piano concerts, recitals, competitions, interesting news, etc. Let us know so we can all share. Here

Let me know if you'd like to post an event on our Calendar, and/or have it mentioned in our newsletter. Email Frank B.


---
PianoSupplies.com
A Division of Piano World
---
With a Little Help From Our Friends

Each month I try to pull together some information I hope our subscribers will find interesting, informative, or just plain entertaining. I'm happy to do it, but I'm only one person. There are over 31,000 subscribers to this newsletter, not to mention 46,000+ members of the forums.

I could use a little help from our friends. If you spot a post that you think might be of interest to our subscribers, please let me know (webmaster@pianoworld.com .
Same thing goes for interesting articles, stories, clips, etc. found in print or on other sites.
If it's something you found other than on Piano World, please make sure you include all the details so we can credit the right original source, as content is often times under copyright.

Speaking of interesting posts, we are always looking for posts to add to our FAQ sections too.
With over 1.2 million posts, it takes a lot to slog through looking for answers. Moving particularly helpful threads to one of our FAQ sections helps new visitors/members find answers, and minimizes the need to keep posting the same answers to the same questions over and over. Again, please Let Me Know if you think you've spotted a good canditate. And PLEASE, include a link directly to the post.

What About the Other Places on Piano World?
I ask this question every so often because you'd be surprised how many people think Piano World is just the Piano Forums. Not so. I spent years building the other 1000+ pages of Piano World, please feel free to explore.

Things like:
Silly-Fun and Interesting Videos
Including the famous Nora-the-Cat, a hamster, a pig, and a pipe.

Online JigSaw Puzzles with a music theme
You can even submit pictures of your own for consideration in making new puzzles.

Word Search Puzzles (also musical) Print them out and have at it!

A Virtual Java Piano For when you really need to pick out a melody, but no instrument is available.

Check Out our Directory for Lots More to See and Do Or explore the lists in the left side navigation on the main Piano World site.
---
Piano Forums Hints & Help


PM (Private Messages)
Replying to a PM instead of clicking the link where it says "You can ONLY reply to this message by ...." sends it to me, not the intended recipient. You need to CLICK THE LINK IN THE PM that was sent to you.

Searching on the Forums...
You must be signed in to use the search function. It is best to use Advanced Search, setting parameters that will narrow the search to one or two specific forums

Multiple Accounts
Please DO NOT use more than one account on the forums. We automatically track members with multiple accounts (by IP address among other tools). Members with multiple accounts from one location are immediately suspected of being "sock puppets".
Meaning you are suspected of being up to no good, trying to deceive your fellow members.
Don't think because you haven't been contacted yet that you aren't being watched, you are. We have software that automatically tracks multiple sign-ins. You could end up being permanently banned, and yes, we will expose you to the other members.

Speaking of watching your actions on the forums, I will once again warn everyone... Stick to the facts when posting about a business or individual. Do not use the forums for your private vendetta. As the host, I am protected, you are not. Disgruntled former employees or unhappy customers be warned you can be held responsible for false and/or defamatory statements on a public forum. Stick strictly to the facts.

Want to display pictures and/or multimedia (ex: YouTube)?
Make sure you choose "Switch to Full Reply Screen" first. You will then see a number of icons (buttons) including Images, Media, Links, etc.

---
In the Piano Business? - Advertise on Piano World


It is more important now than ever to invest your advertising dollars wisely.

Of course you want to reach the maximum number of prospective customers for the least amount of costs.

That's where Piano World comes in!

Advertising Information page at: www.PianoWorld.com/advertising for information about placing an ad in our Classified's button display ads on the forums and/or run of site, or in this newsletter.
[Note: we do not sell, rent, or share our members/visitors emails]

---
Need Something?


If you are looking for a professional Piano Dealer, Tuner, Mover, Teacher, Restoration Shop, etc., please try our Classified Ads first.
These folks are all professionals in the business, and kindly pay us to Advertise on Piano World (which helps support PW and the forums).
---
In Closing


As always, if you have any ideas or suggestions for the next issue of our newsletter, the Piano Forums, or Piano World, please let me know (webmaster@pianoworld.com)
You can find previous issues (and a copy of the current issue) of our newsletter here ... Newsletter Archives

Remember:
It's Fun to Play The Piano ... Pass It On!

Warm Regards,

Frank Baxter
Founder / Host
Piano World & the Piano Forums
46,000+ Forums Members, Over 1.3 Million Posts, and still growing!
webmaster@pianoworld.com
Piano World On:
Twitter .. Twitter.com/PianoWorld
Facebook ... Facebook.com/PianoWorldDotCom