In-Tune, the Piano World Piano Forums Newsletter
December 2009
About "In-Tune"
In-Tune is the newsletter for piano lovers.

Much of the material for In-Tune comes from our world famous piano forums.



Check the In-Tune Newsletter Archives to see what you've been missing and catch up on what's been happening!


---
Happy Holidays , Merry Christmas & Happy New Year!
May the holidays bring you cheer, and the new year bring you peace, prosperity, and piano music :-)
---
Piano Forums Piano Cruise - Prices Dropped!

Our first Piano Lover's Cruise is coming up fast, and now cabins are available at new lower prices!
Don't worry, if you already booked through Bill (our travel agent), you will get the lower price. If you haven't booked yet, do it now.

Read about the cruise and the ship details ... Piano Forums Piano Cruise

Join us on this cruise, and don't forget your music!
&nbsp:
---
Piano Party Time!



There are always piano parties happening, we just don't always know about them (so hey, let us know).

What's a Piano Party? It's when people who share your affection for the piano get together (usually at someone's home, sometimes at music stores or other venues) to have a great time playing the piano, talking, and of course, drinking & eating. The majority of the attendees typically have met through the Piano Forums, but they also include friends and neighbors who may not be familiar with the PW Piano Forums (yet).

The parties go by various names ... Piano Forums Piano Party, Piano World Piano Party, Piano Gathering, Piano Party, Piano Crawl. That last title usually means visiting various piano stores, although our Cape Cod Piano Party this past summer was like a piano crawl (5 houses, 5 pianos, over 3 days).

If you are planning a piano party, or would like to organize one, please let us know.

Piano Parties Coming Soon

San Fran Piano Party Jan 23, 2010 SanFran Piano Party Thread

Post Your Piano Party Details Here (and let me know about them)
---
advertisement
Create your own piano with Pianoteq!
Pianoteq is a unique physically modelled piano software that lets you create your own piano.
It also offers a range of beautiful historical instruments such as pianoforte, harpsichords, vibraphones and electro-acoustic pianos.
Listen to audio samples and download a free trial version at www.pianoteq.com

---
10 Pianos Out In the Street!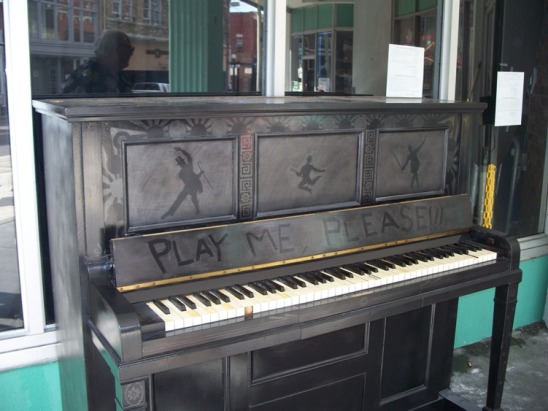 That's right, 10 pianos all outside ... where anyone can play them!

And what fun it is hunting them all down. Ten different pianos in ten different spots around the city. Each one of them painted by a different artist. Yes, they are still there, but only through Jan. 9
10 Pianos Outside - the Details
Read the thread, view the pictures, and join the hunt!
---
RIP Charlie Banacos


"The jazz community lost Charlie Banacos on Dec. 8th. His students and friends worldwide have lost a much loved and respected mentor, a true genius and advocate for jazz". Charlie Banacos tributes and stories
---
Misc. Interesting Threads, Tidbits & Stuff


Tailor Made Contest
This was a contest to come up with a caption for a cartoon showing a room full of grand pianos (you have to see it to understand). I thought our members came up with some great captions, wanted to share them with you. Tailor Made Contest - the Captions

60+ Pianos Vandalized at NY School
Sad but true. Some idiot(s) vandalized over 60 pianos at this NY school.
Read about it here School Pianos Vandalized

The Let's Talk Weddings thread continues to grow. If you haven't read it yet, check it out. There are some really funny stories here. Let's Talk Weddings Thread

A word or Two on the Piano Industry
This one stirred up some interesting comments. The Piano Industry

Can I Say That on the Forums? This one is worth repeating...
According to a recent article in Parade Magazine, you'd better be careful what you post online. Particularly on a popular forum like ours.
And if you think you are being anonymous because you didn't use your real name, and used a junk email address, think again.
Read this post for an idea of What Can Happen When You Say the Wrong Things Online

Keeping Track of Interesting Threads
Found some posts/threads that interest you, but when you come back a few days later, you can't find them?
Here's an easy fix...
At the top of any post (even if you haven't posted in it) is a box "Topic Options", choosing Ad Topic to Your Watched List tells our forums system to send you an email every time there is a new post. Want to stop following a particular thread? Go back to the same box, and choose "Remove Topic from your Watched List"
---
Advertisement

---
NAMM 2010 - Anaheim, CA - It's Almost Here!



The countdown continues. Now it's only about 3 weeks until the big show. January 14-17, 2010.

We would love to see you there.

Curious about which piano and/or keyboard companies will be exhibiting this year?
I've added a list to this thread, compiled from a spread sheet of all 1600+ exhibitors.
What's interesting is the companies who are NOT displaying this year, and that includes some big names in the industry.

Let us know if you are planning on attending, or exhibiting. And by all means, let me know if you'd like to meet up while we're out there.
NAMM 2010 Thread

---
Piano Bars - Restaurants - Clubs


I've just started a list of places you can go to hear live piano music. I know it's been done before, but I'd like this to become a central place to gather a master list.
If you know about any piano bars, restaurants, etc. please add them to the thread. Include your own comments if you've been there.
Where to Hear Live Piano Music Thread
---
advertisement - Piano World is an affiliate

---
Have you recently purchased a piano (new to you)?



Let me know where your post is (or some details so I can find it). I'm thinking of creating special sub-forums under the Piano Forum and the Digital Piano Forum specifically for posts about piano purchases. We love stories about new piano owners (and pictures, don't forget picture), but they tend to get lost pretty quickly. It would be nice to have them in one place so others can share in your joy, and learn from your experiences. webmaster@pianoworld.com
---
Can You Help?



If you enjoy the Piano Forums, please consider doing a little something to help support them.
We are a small business that relies on revenue from our advertisers and sale in our online store.
We are surviving, but like most small businesses, money is tight.
Please visit our Help Support the Forums page for some suggestions of how you might help.
---
Christmas Music Performed by Our Members



Check out this thread in the ABF (Adult Beginners Forum).
It has a wonderful collection of Christmas/Holiday music performed by our very own members.
Many even include videos (including one of yours truly).
It's great fun to hear all the different interpretations and arrangements. Not to mention you get to hear a lot of different pianos, both acoustic and digital. Spend some time in this thread, it will certainly help you get in a cheerful holiday spirit.
Christmas Piano Music from Your Friends on the ABF
---
advertisement
Miracle in a Box
Miracle In A Box is the true story of a 1927 Steinway, the people who restored it, and the First UC Berkeley Piano Competition where the Steinway was awarded as First Prize. Narrated by John Lithgow. Featuring Garrick Ohlsson and Jake Heggie. 56 minutes with over an hour of Bonus Features. A film by Oscar and Emmy winning filmmaker John Korty.

See the trailer or order a DVD at www.miracleinabox.com

---
Concerts and Events



Chicago Amateur Piano Competition Now Accepting Applications
The first Chicago Amateur Piano Competition will be held next year from June 24 – June 27, 2010 (Thursday through Sunday). Applications are now being accepted from amateur pianists who pursue piano playing through love of the instrument and its repertoire, rather than as a professional occupation or for financial benefit. Competitors are expected to be at least 30 years of age at the time of the competition, and may be neither a faculty member at a music school nor a student pursuing a degree in piano performance.

Chicago Piano Competition Additional Details

Let me know if you'd like to post an event on our Calendar, and/or have it mentioned in our newsletter. Email Frank B.


---
PianoSupplies.com
A Division of Piano World
---
With a Little Help From Our Friends

Each month I try to pull together some information I hope our subscribers will find interesting, informative, or just plain entertaining. I'm happy to do it, but I'm only one person. There are over 31,000 subscribers to this newsletter, not to mention 47,000+ members of the forums.

I could use a little help from our friends. If you spot a post that you think might be of interest to our subscribers, please let me know (webmaster@pianoworld.com .
Same thing goes for interesting articles, stories, clips, etc. found in print or on other sites.
If it's something you found other than on Piano World, please make sure you include all the details so we can credit the right original source, as content is often times under copyright.

Speaking of interesting posts, we are always looking for posts to add to our FAQ sections too.
With over 1.3 million posts, it takes a lot to slog through looking for answers. Moving particularly helpful threads to one of our FAQ sections helps new visitors/members find answers, and minimizes the need to keep posting the same answers to the same questions over and over. Again, please Let Me Know if you think you've spotted a good canditate. And PLEASE, include a link directly to the post.

What About the Other Places on Piano World?
I ask this question every so often because you'd be surprised how many people think Piano World is just the Piano Forums. Not so. I spent years building the other 1000+ pages of Piano World, please feel free to explore.

Things like:
Silly-Fun and Interesting Videos
Including the famous Nora-the-Cat, a hamster, a pig, and a pipe.

Online JigSaw Puzzles with a music theme
You can even submit pictures of your own for consideration in making new puzzles.

Word Search Puzzles (also musical) Print them out and have at it!

A Virtual Java Piano For when you really need to pick out a melody, but no instrument is available.

Check Out our Directory for Lots More to See and Do Or explore the lists in the left side navigation on the main Piano World site.
---
Piano Forums Hints & Help


PM (Private Messages)
Replying to a PM instead of clicking the link where it says "You can ONLY reply to this message by ...." sends it to me, not the intended recipient. You need to CLICK THE LINK IN THE PM that was sent to you.

Searching on the Forums...
You must be signed in to use the search function. It is best to use Advanced Search, setting parameters that will narrow the search to one or two specific forums

Multiple Accounts
Please DO NOT use more than one account on the forums. We automatically track members with multiple accounts (by IP address among other tools). Members with multiple accounts from one location are immediately suspected of being "sock puppets".
Meaning you are suspected of being up to no good, trying to deceive your fellow members.
Don't think because you haven't been contacted yet that you aren't being watched, you are. We have software that automatically tracks multiple sign-ins. You could end up being permanently banned, and yes, we will expose you to the other members.

Speaking of watching your actions on the forums, I will once again warn everyone... Stick to the facts when posting about a business or individual. Do not use the forums for your private vendetta. As the host, I am protected, you are not. Disgruntled former employees or unhappy customers be warned you can be held responsible for false and/or defamatory statements on a public forum. Stick strictly to the facts.

Want to display pictures and/or multimedia (ex: YouTube)?
Make sure you choose "Switch to Full Reply Screen" first. You will then see a number of icons (buttons) including Images, Media, Links, etc.

---
In the Piano Business? - Advertise on Piano World


It is more important now than ever to invest your advertising dollars wisely.

Of course you want to reach the maximum number of prospective customers for the least amount of costs.

That's where Piano World comes in!

Advertising Information page at: www.PianoWorld.com/advertising for information about placing an ad in our Classified's button display ads on the forums and/or run of site, or in this newsletter.
[Note: we do not sell, rent, or share our members/visitors emails]

---
Need Something?


If you are looking for a professional Piano Dealer, Tuner, Mover, Teacher, Restoration Shop, etc., please try our Classified Ads first.
These folks are all professionals in the business, and kindly pay us to Advertise on Piano World (which helps support PW and the forums).
---
In Closing


As always, if you have any ideas or suggestions for the next issue of our newsletter, the Piano Forums, or Piano World, please let me know (webmaster@pianoworld.com)
You can find previous issues (and a copy of the current issue) of our newsletter here ... Newsletter Archives



Remember:
It's Fun to Play The Piano ... Pass It On!

Warm Regards,

Frank Baxter
Founder / Host
Piano World & the Piano Forums
47,000+ Forums Members, Over 1.3 Million Posts, and still growing!
webmaster@pianoworld.com
Piano World On:
Twitter .. Twitter.com/PianoWorld
Facebook ... Facebook.com/PianoWorldDotCom
LinkedIn ... www.linkedin.com/in/ecommerceseo