In-Tune, the Piano World Piano Forums Newsletter
Nov. 26, 2007
About "In-Tune"
In-Tune is the newsletter for piano lovers, and is a Piano World production. It comes out regularly, make that semi-regularly, ok... when I have time :-)

Much of the material for In-Tune comes from our world famous piano forums.



Check the In-Tune Newsletter Archives to see what you've been missing!

I decided to put out this special issue primarily to let everyone know about some upcoming piano parties...
---
PIANO PARTY TIME!



Saturday - DEC. 1 - Lowell, MA - Larry Buck's Shop
Special guests include:
Herr Hannes Schimmel-Vogel, President of Schimmel
Herr Vogel will be visiting from Germany and is pleased the gathering can be coordinated with his visit.
Marc Wienert, Piano Voicer/Tuner/Technician Extraordinaire
Marc was the initial inspiration for Perri Knize's book, Grand Obsession, based on his expertise in piano voicing.
Michael Frederick - from the Frederick Historical Piano Center in Ashburnham, MA
And of course we are looking forward to as many Piano Forums members joining us as possible :-) (Yes, I plan to be there)
More details about the party
Piano Gathering - Lowell, MA 12/1/07


Saturday, January 19, 2008 - SoCAL
SoCA NAMM Piano and Book Signing Party

One and all are cordially invited to attend a party in celebration of Perri Knize's new book GRAND OBSESSION, and the glory of pianos, along with music in general on Saturday, January 19, 2008, commencing at approximately 6 PM.

The author herself will be there to sign books and mix with us common folks :-) (Yes, I will be there)
Attendees of NAMM are encouraged to attend and will be excused if they show up a bit later than that.
SoCA 01/19/08 Party Details Here

Also see Jan. 11th & 12th events in NY under GRAND OBSESSION below.

Planning a piano party, or thinking of putting one together? Let us know so we can spread the word BEFORE the party.
Even quick impromptu gatherings can be fun (Like This One)

---
GRAND OBSESSION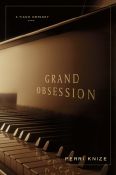 GRAND OBSESSION
A Piano Odyssey
by PERRI KNIZE

Speaking of Marc Wienert (see Lowell, MA piano party above)...
We just added excerpts from the CHAPTER TWELEVE of GRAND OBSESSION - The Voicer

The Voicer introduces us to Marc and how his talents had a profound effect on Perri's quest.

Read more about the book, and peruse the excerpts, including The Voicer, here...
GRAND OBSESSION - Review & Excerpts
(Hurry, there's still time to order the book in time for Christmas)

January 11th, 7 pm, Barnes & Noble Lincoln Center, New York, NY, Perri Knize reads from "Grand Obsession: A Piano Odyssey" Piano party, book signing, and piano performance. More details to come--stay tuned by checking in at www.grandobsession.com and click on the "news" page.

January 12th, 1:30 to 6:30 pm, Piano Row, West 58th Street between 7th Ave. and Broadway, New York, NY. First "Pianothon" block party, celebrating the publication of "Grand Obsession: A Piano Odyssey" by Perri Knize and the launch of the Piano Row Association. Piano performances, technical demonstration, talks, readings, book signing, and piano crawl among the four showrooms of Piano Row. Further details to come will be posted at www.grandobsession.com on the "news" page.
---
(Advertisement)
How to WIN at Piano Lessons: Successful Piano Instruction Strategies for Non-Mozarts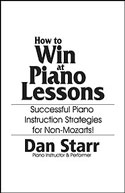 The title says it all.

It's a manual on HOW to take piano lessons so that you actually do learn to play the piano. It covers topics such as how to practice correctly, how to maintain a positive attitude, and how to improve your reading of music - subjects that most piano books only mention in passing, if at all.

Read the Table of Contents and first chapter FREE... Downloadable NOW.

---
Meet the ABF Members


I noticed a thread running in the ABF (Adult Beginner's Forum) about trying to get members together in person.
I think it's a great idea and hope they can find a way to pull it off. It appears that a number of members would like to do it, but of course logistics and $$ are an issue. If it does happen, let me know because I'd like to try to join you.
Read more about it here... ABF Meeting
And a related thread Location Survey
---
Program to support music in schools



The grant program will award 10 (ten) worthy schools a $5,000 monetary grant and license for High School Musical. The funds are to support music and arts-related educational costs of the production such as hiring music and dance coaches, and to help schools that do not have sufficient lighting and sound equipment for the production.
Read More About the Program Here
---
Listen to Keyboards.com



Interesting concept.
A web site to compare the sounds of various keyboards all in once place.
It's on the Kurzweil site, but they have taken pains to make it is unbiased as possible. I have to admit it's a pretty cool setup.
Read Member's Opinions
---
PianoSupplies.com - Gifts for the Music Lover
A Division of Piano World
(advertisement)
---
Pianos and .... UFOs?


Ok, just a little bit odd, but interesting.
The Northampton Piano Company in PA has more than just pianos in their collection.
This is on the CNN web site, so you will have to sit through a 30 second commercial Pianos & UFOs.
---
ACMA


A new amateur classical musician's association in New York City. The group, ACMA (Amateur Classical Musician's Association) meets on a monthly basis to perform for and with each other in a relaxed, friendly environment. If any of our talented members would like to join or if you'd like more information, visit their website at: www.nycclassical.com.
---
Advertise on Piano World


If you are in the piano and/or music business and you would like to reach our music loving audience, please visit our Advertising Information page at: www.PianoWorld.com/advertising for information about placing an ad in our Classifieds or in this newsletter.
[Note: we do not sell, rent, or share our members/visitors emails]

The Piano World web site (including the forums) averages well over 3 million page views a month, with upwards of 300,000 unique visitors. Our newsletter (the one you're reading now) goes out to over 25,000 music lovers.

Piano World pages listed (indexed) in the major search engines../
MSN has 7,780
Yahoo has 7,903
Google has 63,500

We offer very effective classified/display ads, run of site, and spots in this newsletter.
---
In Closing


As always, if you have any ideas or suggestions for the next issue of our newsletter, the Piano Forums, or Piano World, please let me know (webmaster@pianoworld.com)
You can find previous issues (and a copy of the current issue) of our newsletter here ... Newsletter Archives

Remember:
It's Fun to Play The Piano ... Pass It On!

Warm Regards,

Frank Baxter
Founder / Host
Piano World & the Piano Forums
webmaster@pianoworld.com