In-Tune, the Piano World Piano Forums Newsletter
May 2007
About "In-Tune"
In-Tune is the newsletter for piano lovers, and is a Piano World production. It comes out regularly, make that semi-regularly, ok... when I have time :-)

Much of the material for In-Tune comes from our world famous piano forums.

In-Tune Newsletter Archives
---
Mason & Hamlin Does it Again


What better way to spend your day?
~ Touring the famous Mason & Hamlin factory, learing how they build those beautiful pianos.
~ Sharing lunch with forums members, their guests, and our friends from M&H.
~ Ending the tour in a room full of brand new M&H grands, with permission to play any piano you want:-)

See the pictures and read the comments about our 2007 Mason & Hamlin Tour Here

And as if that wasn't enough, a number of us got together at Larry Buck's (member # 8172) piano rebuilding shop in Lowell, MA for a Piano Forums Party!
Good food, good wine, good music, and good friends. A perfect way to end a perfect day.
---
Duo Scarbo Concert


Concert pianist and long time forums member (EHpianist # 3472) Elena Hammel will be performing with her duo partner Laura Sánchez at Carnegie Hall Thursday June 21.
I know quite a few members are planning to go (I'm hoping to make it myself). If you enjoy great piano playing, you owe it to yourself to attend their concert.
Details Here
---
(Advertisement)
Piano Sheet Music to download instantly on Virtual Sheet Music ®


The most famous piano repertoire in pure digital, high quality PDF file format ready to download, print and play. Find also exclusive transcriptions, arrangements and collections you can't find elsewhere!

Don't forget: Join as a Member to download everything without limit.
---
Casio recalls model CTK-710


Ser. #7030001 - 7040400 and #7041901 - 7043500
The ser. number is located in the battery compartment.
The recalled units are presenting smoke and or fire hazard.
No other Casio keyboards are affected by this recall
visit www.casio.com or call 1 866 800 4302 for information on how to have the keyboard repaired.
(Our thanks to Fred Altenburg, member # 4571 for posting this bulletin)
---
Virus Alert!


Actually it's a new 3D game called Virus Alert 3D, starring Weird Al Yankovic.
Friends of mine from a company called Left Brain Games created, developed and produced the game for Weird Al, based on the song from the same name from his latest album, Straight Outta Lynwood.

See screen shots, a video, and more information (including how to get a free demo version) HERE!
---
Welcome Rami Bar-Niv


Rami is a concert artist, and relatively new forums member (# 21,367). He is the first and only Israeli to ever perform in Egypt. That was after the Begin-Saadat peace accord.
He has also performed for Leonard Bernstein, Zubin Mehta, and many others.
Check out his videos playing Rhapsody in Blue ...
Part I and Part II
Rami also runs a summer camp for aspiring adult pianist, read more ... Here
---
(Advertisement)
How to WIN at Piano Lessons: Successful Piano Instruction Strategies for Non-Mozarts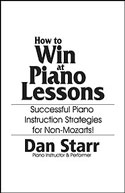 The title says it all.
It's a manual on HOW to take piano lessons so that you actually do learn to play the piano. It covers topics such as how to practice correctly, how to maintain a positive attitude, and how to improve your reading of music– subjects that most piano books only mention in passing, if at all.

Read the Table of Contents and first chapter... Downloadable NOW.

---
Senators Hear the Music


WASHINGTON, May 9, 2007—NAMM, the trade association of the international music products industry, today announced that Senator Chris Dodd (D-CT) and Senator Lamar Alexander (R-TN) sent a letter to David Walker, the Comptroller General of the Government Accountability Office (GAO), requesting that the GAO conduct a study on access to music and arts education in the American public school system since passage of the No Child Left Behind Act.

This week, Senators Dodd and Alexander also introduced a resolution recognizing the benefits and importance of school-based music education. Senators Dodd and Alexander are members of the Senate Committee on Health, Education, Labor and Pensions (HELP), and are Chairman and Ranking Member of its Subcommittee on Children and Families.
Read The Rest of The Story
---
Nora - The Piano Playing Cat

I know, I know... many of you have seen this, but for the new members (over 600 new since the last newsletter) who haven't...


Nora The Piano Playing Cat (It's a real cat)
This cat actually plays the piano, she even does a duet with a student. The look on the cat's face is priceless. I'm jealous though, she has better technique then I do.

---
Some More Fun Links:
---
PianoSupplies.com
(advertisement)
---
Don't Shoot Me; I'm Only the Piano Player


Some industry insiders contacted me about a concept they are working on for a new American Idol type show.
Except in this case they have multiple objectives, including raising money for charities, and getting more people interested in playing the piano. Kind of a win-win I'd say.

The following is a "press release" about the proposed show...

Don't Shoot Me; I'm Only the Piano Player

Under pressure, under the lights, alone on stage with nothing but talent and a grand piano.

This tastefully produced, 13-week reality competition will honor Elton John using his vast musical library of original music by challenging young piano-playing vocalists to display their abilities. To win, they will also need to exhibit true showmanship and creativity through the use of original costumes and how well they arrange Sir Elton's hits to make a rendition uniquely their own.
This is not a competition of Elton John impersonators; it is a tribute to his talent and showmanship. Staff professionals will assist contestants in arranging and providing accompaniment for performances.

A contest within the contest of up and coming fashion designers will simultaneously be sponsored providing a competitive arena for retro or current, hip and outrageous outfits to be created for each routine throughout the series providing a unique visual aspect. Every show, archived footage of Elton John is used to place each performance into context with Elton's history of the piece.
In the finale, Elton will be honored; ultimately performing in a duet with the Winner.

A show like this will make piano playing look cool again and will inspire millions of young "Next" generation viewers.

For more information, and a chance to give the shows creators (and us) some feedback, see This Thread
---
Should We, or Shouldn't We?


New forum?
Some members have asked about creating a "Chopin" forum.
I explained that I thought this might be too specific, but we may consider a classical composer's forum.

Join the Discussion Here and let us know what you think.
---
Advertising on Piano World


If you are in the piano and/or music business and you would like to reach our music loving audience, please visit our Advertising Information page at: www.PianoWorld.com/advertising for information about placing an ad in our Classifieds or in this newsletter.
[Note: we do not sell, rent, or share our members/visitors emails]

The Piano World web site (including the forums) averages well over 3 million page views a month, with upwards of 300,000 unique visitors. Our newsletter (the one you're reading now) goes out to over 25,000 music lovers.

Piano World pages listed (indexed) in the major search engines (as of 03/30/2007)
MSN has 7,780
Yahoo has 7,903
Google has 63,500

We offer very effective classified/display ads, run of site, and spots in this newsletter.
---
In Closing


As always, if you have any ideas or suggestions for the next issue of our newsletter, the Piano Forums, or Piano World, please let me know (webmaster@pianoworld.com)
You can find previous issues (and a copy of the current issue) of our newsletter here ... Newsletter Archives

Remember:
It's Fun to Play The Piano ... Pass It On!

Warm Regards,

Frank Baxter
Founder / Host
Piano World & the Piano Forums
webmaster@pianoworld.com