In-Tune, the Piano World Piano Forums Newsletter
June/July 2007
About "In-Tune"
In-Tune is the newsletter for piano lovers, and is a Piano World production. It comes out regularly, make that semi-regularly, ok... when I have time :-)
Summer is traditionally a slower time for the music business (and us) so I've made this issue the June/July issue.

Much of the material for In-Tune comes from our world famous piano forums.

In-Tune Newsletter Archives
---
Steinway Factory Tour


On Tuesday June 19th a group of Piano Forums members met at the Steinway factory in Queens, NY for a factory tour.
This was my first time at the Steinway facilities (as it was for many of our members).

It was great to meet members I hadn't met yet, and to tour the place where the venerable Steinway pianos are born. My thanks to member "Fingers" (# 5344) for organizing this event for us.

As an added treat, Steinway provided lunch, and a meet and greet with President & CEO Bruce Stevens.

See the pictures and read the comments about our 2007 Steinway Tour Here
---
Duo Scarbo Concert


Concert pianist and long time forums member (EHpianist # 3472) Elena Hammel performed with her duo partner Laura Sánchez at Carnegie Hall Thursday June 21.
Read about the concert and view some pictures ...
Concert Details Here
---
(Advertisement)
Discover the world of the fourth piano generation!

Discover the world of the fourth piano generation! Being truly modelled, PIANOTEQ offers an extraordinary playable concert grand. You can even create your own piano sound through unique physical parameters. PIANOTEQ can be used with a laptop (PC/Mac) connected to your digital piano keyboard.
Free trial version available.
---
Win a Digital Grand and help a charity…


Composer, Musician, program director for Whisperings: Solo Piano Radio at www.solopianoradio.com, and forums member (# 16867) David Nevue contacted me asking permission to mention this charity fund raiser.

Purchase a ticket (or better yet, book of tickets) for a chance to win a Digital Grand piano, and help a very worthwhile charity at the same time.

Details Here
---
Book Em Dino!


Ok, this isn't piano related, but long time member Dino Flacco (# 2295) emailed me that his brother's first novel has been published. He is understandably proud, so I thought I'd share the news with our members.

"Dear Friends:
It is with great pleasure that I introduce you to Anthony Flacco's first published novel, The Last Nightingale.
As a previously published author of non-fiction, (A Checklist for Murder by Dell and Tiny Dancer by St. Martin's Press), this Ballantine/Random House historical mystery is the first in a continuing series.
The book can be ordered from Amazon.com here... http://www.amazon.com/exec/obidos/ASIN/0812977572
---
Floor It!


Posted by member Mike A (# 19656)...

From the New York Times:

"The Supreme Court on Thursday abandoned a 96-year-old ban on manufacturers and retailers setting price floors for products.
"In a 5-4 decision, the court said that agreements on minimum prices are legal if they promote competition.
"The ruling means that accusations of minimum pricing pacts will be evaluated case by case.
"The Supreme Court declared in 1911 that minimum pricing agreements violate federal antitrust law.
"Supporters said that allowing minimum price floors would hurt upstart discounters and Internet resellers seeking to offer new, cheaper ways to distribute products."
This post has kicked off some interesting discussions, providing different perspectives from consumers, dealers, and manufacturers/suppliers.
Read the Entire Post Here
---
(Advertisement)
How to WIN at Piano Lessons: Successful Piano Instruction Strategies for Non-Mozarts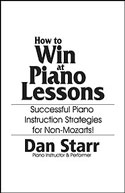 The title says it all.
It's a manual on HOW to take piano lessons so that you actually do learn to play the piano. It covers topics such as how to practice correctly, how to maintain a positive attitude, and how to improve your reading of music– subjects that most piano books only mention in passing, if at all.

Read the Table of Contents and first chapter... Downloadable NOW.

---
What, no Waffles?


Long time forums member (# 8172) and old friend of mine, Larry Buck, recently traveled to Belgium with Bill Shull and David Standwood (I see you're keeping better company these days Larry :-).
They got to see some fantastic pianos, meet some wonderful people, and see the beautiful country itself.
Read about their trip and view pictures HERE
---
The Piano Playing Hamster


By now you've probably heard about Nora, the piano playing cat.
This just might be the anti-Nora.
The Piano Playing Hamster

---
Some More Fun Links:
---
IMPORTANT NEW DVD!
(advertisement)


The Craft of Piano Playing: A New Approach to Piano Technique, promises a "guaranteed huge improvement to your piano sound" (PianoNews, Germany).

Alan Fraser's exercises accessing the hand's natural structure and function are a " 'must have' for any pianist wanting to master their technique" (La Lettre du Musicien, France).

Watch the Demo at the Maple Grove Music Productions website, Read Reviews, or purchase the DVD at our Online Store.
---
Numbers Please



The Piano Forums have reached two new milestones...
~ We set a new record for number of visitors in a one hour period. 957 people visited the forums in one hour. Doesn't sound like much, but it means over 12 people a minute.
~ We passed the 24,000 registered members mark today, June 6, 2007
---
Steingräber Factory Tour



Member MJS (# 20802) recently toured the Steingräber piano factory and was kind enough to post pictures and a review.
Check Out the Post Here
---
What's Better Than an Emmy?



Why, Two Emmys of course!
Scott "The Piano Guy" Houston (member # 18749) recently won two Emmys for his TV series, The Piano Guy. Congratulations Scott!
If you'd like to post your own congratulations to Scott, I've started a thread HERE
---
Piano Forums Party Anyone?



If you are interested in hosting or attending a Piano Forums party, or would just like to know what the heck I'm talking about, please see this area of the forums...
Forums Members Tours/Parties/Events
---
PianoSupplies.com
(advertisement)
---
Piano Concerts, Recitals, and Competitions


Do you ever visit this section?
Are you interested in concerts, recitals, and/or competitions?
Are you aware of an event our other members might like to know about?
Then this is the Place to Read or Post.
---
Advertising on Piano World


If you are in the piano and/or music business and you would like to reach our music loving audience, please visit our Advertising Information page at: www.PianoWorld.com/advertising for information about placing an ad in our Classifieds or in this newsletter.
[Note: we do not sell, rent, or share our members/visitors emails]

The Piano World web site (including the forums) averages well over 3 million page views a month, with upwards of 300,000 unique visitors. Our newsletter (the one you're reading now) goes out to over 25,000 music lovers.

Piano World pages listed (indexed) in the major search engines (as of 03/30/2007)
MSN has 7,780
Yahoo has 7,903
Google has 63,500

We offer very effective classified/display ads, run of site, and spots in this newsletter.
---
In Closing


As always, if you have any ideas or suggestions for the next issue of our newsletter, the Piano Forums, or Piano World, please let me know (webmaster@pianoworld.com)
You can find previous issues (and a copy of the current issue) of our newsletter here ... Newsletter Archives

Remember:
It's Fun to Play The Piano ... Pass It On!

Warm Regards,

Frank Baxter
Founder / Host
Piano World & the Piano Forums
webmaster@pianoworld.com