In-Tune, the Piano World Piano Forums Newsletter
June 2009
About "In-Tune"
In-Tune is the newsletter for piano lovers.

Much of the material for In-Tune comes from our world famous piano forums.



Check the In-Tune Newsletter Archives to see what you've been missing and catch up on what's been happening!


---
Piano Forums Piano Cruise - Prices Went Down!

What, you haven't signed up for our cruise yet? Well get with it!
The prices have actually gone down some since we started, everyone will get the lower price.

Nine cabins have been spoken for already, out of the 16 our travel agent reserved.
Sign up know before they are all gone! You only need $250.00 per person to reserve a space, the balance isn't due until November. Come on everyone, this is going to be fun!

Bill (our agent) has confirmed... we will have access to real pianos and real fun.
And the first 20 people to sign up will have their choice of an official Piano World T-shirt, or an official Piano World hat.
Plus, as we get more people signed up, Bill will get more goodies for us.

Read about the cruise and the ship details ... Piano Forums Piano Cruise
---
advertisement
How would you like to take your piano playing to the next level?
Would you like to improve on your:
*Improvising Skills
*Sight Reading Abilities
*Accompaniment Techniques
*Hand Coordination


Sign Up For Your Free Online Tutorials At www.LearnPianoTechnique.com

---
It's Fun to Play the Piano ... Pass It On!



The above statement is on the home page of our forums, near the top.
But... What Are You Doing To Helping Spread the Joy of Playing the Piano?
What are you doing on your part to help get more people interested in playing the piano?
I so often hear the words "I always wanted to learn to play the piano". Well, if you already play (regardless of your level) introduce a friend, a neighbor, an co-worker to the joy.
And by all means, invite them to join the Piano Forums.
---
Traveling - Where Can I find a Piano to Play?


We've had threads about this before (although I can't find it).
There are quite a few places that will allow you to play their pianos if they feel you will be careful.
I had the pleasure of sitting in a couple of times for the Piano Bar pianist on a recent cruise (Yamaha Baby Grand).
Had a great time playing. We even sneaked into the bar during the day when nobody was there and I practiced for about 2 hours while Kathy read a book.
If you know of public places that have a piano, and will allow people to play it, let us know. (You can add it to the other thread if anyone can find it, or start a new one).

Speaking of Traveling - We Are Headed up the East Coast

Kathy and I will be driving up the east coast from Florida all the way up into NH.
We're leaving Florida June 30th, returning sometime between the 12th and 15th.
Would be happy to visit music stores, or stop in if anyone is having a Piano Party, or might offer us a glass of wine and a piano to play :-)
---
advertisement
World renowned concert artist Jeffrey Biegel, takes online piano lessons to the next level!

A distinguished Professor of Piano at Brooklyn College in New York, and protege of the legendary teacher, Adele Marcus at The Juilliard School, Mr. Biegel now offers online interactive lessons for pianists and teachers alike.
Preparing for a competition?
Preparing for a recital or concerto appearance?
Want to improve your playing to teach your students?
Questions about specific repertoire you are learning, teaching or performing?
Jeffrey Biegel has opened his studio worldwide through the technology of the internet. Having created and performed the first live audio/video concerts on the internet in 1997, Mr. Biegel is now able teach on a global level.

Need to brush up on your technical abilities? Need assistance in putting programs together, and audition materials? You can benefit from the life and career of Jeffrey Biegel.
This is not one of those canned video presentation, this is Live, Interactive, Online Lessons!
---
Misc. Interesting Threads & Stuff


Blind Pianist
Crohan, who has been blind since birth when he was exposed to too much oxygen in an incubator, started picking out tunes on his grandmother's out-of-tune piano when he was 3. As a youngster he appeared on a Boston television show, during which an appeal was made to get him a piano.

Around Christmas he was invited back to the show and handed a Braille Christmas card that read: "David Crohan, this is your piano." Read More

90 Year Old Couple Plays Piano Duet
This is cute, and funny. I hope I'm still playing when I'm 90. 90 Year Olds

Have you checked out our new Who's Who on Piano World forums yet? Who's Who?
Don't forget, if you make your living primarily from playing (piano, organ, keyboard) you can likely add your profile.

O.T. - Twitter Users?
I'm curious... How many of you use Twitter?
I've just set up a Twitter account ( http://twitter.com/PianoWorld ), still learning about it. Twitter Discussion on the Forums

Astronaut and Classical Pianist!
Mission specialist Julie Payette is an astronaut for the Canadian Space Agency as well as a classical pianist, and will serve as robotics specialist for this mission...
Date: July 11 +
Mission: STS-127
Launch Vehicle: Space Shuttle Endeavour
Launch Site: Kennedy Space Center - Launch Pad 39A
Launch Time: 7:39 p.m. EDT
Landing Date: July 27
Landing Time: 12:16 p.m.
Description: The crew of space shuttle Endeavour will deliver and install the final elements of Japan Exploration Agency's Kibo laboratory to the International Space Station.
Hmmmnn, I wonder if they have room for a piano on the Space Station?

Our thanks to Matt (member Debussy20) for volunteering to video tape a lesson with concert pianist Jeffrey Biegel.
Many of you know Matt from the Pianist Corner.
I'm working with Jeffrey (full disclosure, we are friends, but he also advertises on PW), helping him set up and test live/interactive lessons via the Web. Jeffrey has already taught a couple of times this way, using Skype (available free on the Web) and a web cam. Seems to work well.
Here is a thread discussing the pros and cons of Live Piano Lessons Online


---
Lightening Strike Turns Doctor into Pianist

Hey, I couldn't make this stuff up...

Dr. Cicoria's musical career began rather remarkably when he was struck by lightning in 1994 while speaking on a public telephone during a family reunion near Albany. Shortly thereafter he developed an insatiable desire to hear and to play the piano. Around the same time, music started coming to him …first in a dream, some of which ultimately contributed to the original compositions featured on this CD. Dr. Cicoria self-taught from 1995-1997 before starting formal music instruction with Sandra McKane in 1998.

As a result of his unusual introduction to the world of music, Dr. Cicoria was featured in the New Yorker Magazine article A Bolt from the Blue, by Oliver Sacks MD, as well as in Dr. Sacks' book Musicophilia: Tales of Music and the Brain. Tony has given mini-recitals at the Sonata Adult Piano Camp, in Bennington, Vermont, under the direction of Polly van der Linde, where he has played Chopin's Military Polonaise, Op. 40 (in 2002), Chopin's Fantasie-Impromptu (in 2003), Brahms' Rhapsody, Op. 79, No. 2 (in 2005), Chopin's Scherzo in B-flat Minor, Op. 31 (in 2006) and an early version of his own Lightning Sonata in 2007.

January 29, 2008 marked a significant milestone in Dr. Cicoria's musical career…his public debut at the Goodrich Theater in Oneonta, New York, presented by the Catskill Conservatory in association with the SUNY at Oneonta, assisted by a grant from the NYS Council on the Arts. His performance was recorded live by the BBC-1, Granada Media UK, and German National Television. He has been profiled in numerous magazines including, The Week, Financial Times UK, Superconsciousness Magazine, and has had television presentations on Canada's The Hour, BBC-1's documentary Imagine, Granada Media's documentary My Strange Brain, WSKG TV Expressions, and other soon to be released interviews.
---
Concerts and Events


PBS Special On Music -
Wednesday 6/24 from 9-11 EST entitled "The Music Instinct: Science and Song." More About Special (thanks to member heidiv)

Cape Cod Super Piano Gathering Returns!
- Mark your calendars for Columbus Day Weekend 2009 -

Yes, those wonderful folks down on Old Cape Cod are considering hosting another 2 day event. This is one piano party you just gotta attend.
If you've attended one of their previous parties, you know how much fun it is, so start planning to attend this one. If you haven't been to one, here's your chance!
Please respond to this thread so our hosts can get an idea of how many people would like to come. Cape Cod Piano Party Info & Sign Up

Here are some Pictures from Previous Cape Parties to entice you...

Cape Cod Shoreline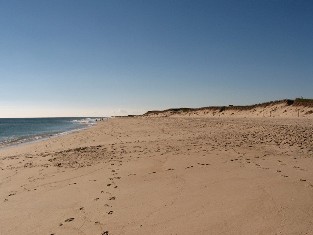 A Group Mug Shot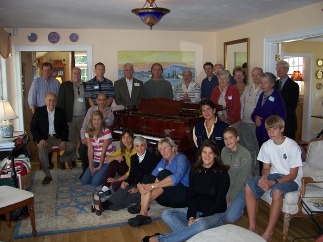 Just One Example of the Great Food at the Parties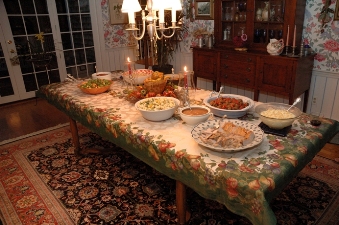 For more info, and a link to lots of picts and reports on our last party on the Cape... Cape Cod Piano Party Info & Sign Up

Speaking of tours and parties... If you'd like to host a Piano Forums party, a concert, or a factory tour, please let us know, or post something Here

If You Know About Upcoming Concerts, Recitals, Competitions, Factory Tour, etc. --- Please Share! We're happy to post details about piano concerts, recitals, competitions, interesting news, etc. Let us know so we can all share. Here

Let me know if you'd like to post an event on our Calendar, and/or have it mentioned in our newsletter. Email Frank B.


---
PianoSupplies.com
A Division of Piano World
(advertisement)
---
Vince Gratano - Piano Traveler


Best wishes to long time piano man Vince Gratano on a speedy recovery from triple bypass surgery. I understand he's back home now and doing better.
Vince
---
More Misc. Fun Stuff


Numbers?
Can't let an issue go by without mentioning some numbers:-)
We set a new record for the number of unique visitors (yes, I know, you are all unique) to the Piano Forums in a one hour period: Max Online: 1930 @ 06/05/09 03:23 PM.
And, we passed the 42,000 registered members mark.

Let's Talk Weddings
As Piano Girl author Robin Meloy Goldsby points out, it's June, wedding season. Let's talk about funny experiences playing at weddings... Funny Wedding Stories (there are already a number of good stories posted, add yours.)

What About the Other Places on Piano World?
I ask this question every so often because you'd be surprised how many people think Piano World is just the Piano Forums. Not so. I spent years building the other 1000+ pages of Piano World, please feel free to explore.

Things like:
Online JigSaw Puzzles with a music theme
You can even submit pictures of your own for consideration in making new puzzles.

Word Search Puzzles (also musical) Print them out and have at it!

A Virtual Java Piano For when you really need to pick out a melody, but no instrument is available.

Check Out our Directory for Lots More to See and Do Or explore the lists in the left side navigation on the main Piano World site.

It's Summer In Our Area ...
What are you doing to take care of your piano in the warm/humid months?
Don't forget to get it tuned at least twice a year
Find time to play every day, even if it's only for a little while

What About the Mason & Hamlin Tour??
I've been in discussions with the good folks at M&H.
They still intend to have us over for a full factory tour, just a question of timing.
We're shooting for some time in early fall, I'll keep you posted.
Hey, around the same time as the Cape party would work nicely for those of us traveling large distances. (hint, hint, wink, wink).
---
Advertise on Piano World


It is more important now than ever to invest your advertising dollars wisely.

Of course you want to reach the maximum number of prospective customers for the least amount of costs.

That's where Piano World comes in!

We are the world's most popular piano web site.
As such, we enjoy top rankings in the major search engines for any number of piano related searches.

We are also a destination web site. In other words, people hear about us (on the web, in print, through their friends, neighbors, teachers, etc.) and seek us out.

Consequently we can consistantly deliver high quality targeted leads to help grow your business. Whatever your offiliation with the piano business (dealer, tuner, mover, teacher, restorer, etc.) we can help.

Most piano related businesses who advertise with us quickly realize the value of putting their business in front of our huge audience of piano lovers.

And now we are making it even easier by giving you the tools to create and edit your own ads. That's right, we've hired a programmer to create the tools you need to set up your ad, and because it's your account, you can log in and change/update your ad(s) any time. This new system went live the end of April for Dealers and Tuners, other categories will follow soon after.

What are you waiting for? Advertising Information page at: www.PianoWorld.com/advertising for information about placing an ad in our Classified's button display ads on the forums and/or run of site, or in this newsletter.
[Note: we do not sell, rent, or share our members/visitors emails]

---
Need Something?


If you are looking for a professional Piano Dealer, Tuner, Mover, Teacher, Restoration Shop, etc., please try our Classified Ads first.
These folks are all professionals in the business, and kindly pay us to Advertise on Piano World (which helps support PW and the forums).
---
In Closing


As always, if you have any ideas or suggestions for the next issue of our newsletter, the Piano Forums, or Piano World, please let me know (webmaster@pianoworld.com)
You can find previous issues (and a copy of the current issue) of our newsletter here ... Newsletter Archives

Remember:
It's Fun to Play The Piano ... Pass It On!

Warm Regards,

Frank Baxter
Founder / Host
Piano World & the Piano Forums
42,000+ Forums Members, Over 1 Million Posts, and still growing!
webmaster@pianoworld.com