In-Tune, the Piano World Piano Forums Newsletter
July 2009
About "In-Tune"
In-Tune is the newsletter for piano lovers.



Check the In-Tune Newsletter Archives to see what you've been missing and catch up on what's been happening!


---
Piano Forums Piano Cruise - There is Still Time!

What, you haven't signed up for our cruise yet? Well get with it!
The prices have actually gone down some since we started, everyone will get the lower price.

Sign up know before they are all gone! You only need $250.00 per person to reserve a space, the balance isn't due until November. Come on everyone, this is going to be fun!

Bill (our agent) has confirmed... we will have access to real pianos and real fun.
And the first 20 people to sign up will receive a official Piano World T-shirt, and a official Piano World hat.
Plus, as we get more people signed up, Bill will get more goodies for us.

Read about the cruise and the ship details ... Piano Forums Piano Cruise
---
A New Family Concert for Storyteller, Jazz Quintet and Orchestra



Jumpin' Jazz - A Swinging Jungle Tale is a New Family Concert for Storyteller, Jazz Quintet and Orchestra built on the premise "Imagination is the Key." It is an entertaining and educational mixture of song and story about the adventures of a 7 year old girl named Claire and her jungle animal friends.

Jumpin' Jazz combines the swinging energy of the jazz quintet with the powerful yet playful expression of symphony orchestra. This innovative toe - tappin' production stimulates the imagination and invites young ears to appreciate an original American art form - Jazz! - and the classic European art form - Orchestra!
Read More about Jumpin' Jazz Here
---
Your Take on the PTG Convention?


I know a number of our piano tuner-tech members attended the PTG convention in Grand Rapids, as did some manufacturers, authors, and other industry professionals.
A couple of threads have been started with thoughts and observations from the convention.
If you attended (or just wish you did), please join in..

PTG 2009 Convention Thread

Another PTG 2009 Convention Thread
---
Forums Stuff


Do Not Solicit Business from our Members!
We occasionally receive complaints from members about being contacted by other members to join something, buy something, etc. It is not ok to solicit our members via PM (private message) and/or direct email. Failure to heed this warning can get you banned permanently.
If you really want to reach our members/visitors, consider paying for Advertising like other legitimate businesses do.

Help Us Choose the Default Look & Feel for the Piano Forums
Did you know you can change the look and feel of the forums yourself?
Well you can. I'm thinking of changing the default look, but wanted to get some opinions first.
This thread explains how to change the look (it's easy), and asks you to vote for your favorite. Forums Look & Feel POLL

Do You Use the Watch Lists?
Watch lists make it easy to keep track of new posts to a thread. There are two ways to "watch" a thread.
When you post a new thread or answer an existing thread, look at the options below the text box where you create your post. One of the options is to Add it to My Watch List.
If you forget to click Watch when you post, or discover a new post you'd like to follow (but aren't necessarily ready to contribute to the discussion) ...
Simply click into the thread and near the top of the page, choose Topic Options / Add Topic to Your Watched Topics.
Either way you will get an email whenever someone replies to the topic(s) you are watching. Don't want to follow it anymore? Go back into the thread, click Topic Options / Remove from Your Watched Topics

Spread The Word
If you enjoy the Piano Forums and/or the Piano World web site, please spread the word.
If you belong to any of the social networks (Twitter, Facebook,MySpace, etc.) you might mention us there. When you do, please provide a link to either the PW home page, or directly to the forums home page.
---
advertisement
World renowned concert artist Jeffrey Biegel Reaches Out to Students via Skype!

A distinguished Professor of Piano at Brooklyn College in New York, and protege of the legendary teacher, Adele Marcus at The Juilliard School, Mr. Biegel now offers online interactive lessons for pianists and teachers alike.
Preparing for a competition?
Preparing for a recital or concerto appearance?
Want to improve your playing to teach your students?
Questions about specific repertoire you are learning, teaching or performing?
Jeffrey Biegel has opened his studio worldwide through the technology of the internet. Having created and performed the first live audio/video concerts on the internet in 1997, Mr. Biegel is now able teach on a global level.

Need to brush up on your technical abilities? Need assistance in putting programs together, and audition materials? You can benefit from the life and career of Jeffrey Biegel.
This is not one of those canned video presentation, this is Live, Interactive, Online Lessons! Special Introductory Pricing!
---
Misc. Interesting Threads & Stuff


Making of a Steinway Piano - Circa 1929
This is pretty cool, it's from an actual video recording circa 1929 Steinway 1929.

World's Fastest Violinist
(He's not just fast though, he can actually play) Fastest Violinist

What if Musicians Ran the Country?
Which musicians would hold which posts? See for yourself... Musicians Running the Country

Have you checked out our new Who's Who on Piano World forums yet? Who's Who?
Don't forget, if you make your living primarily from playing (piano, organ, keyboard) you can likely add your profile.

Why Kids Don't Make Music
Results from a national survey of high school students. This thread has spawned some interesting responses. Kids Music Survey


---
Fund Raising Recital For Famous Frederick's Museum of Historical Pianos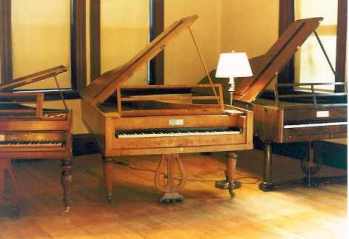 Fund raising Recital for The Frederick Collection of Historical Pianos.
The Frederick's are friends of Piano World (sorta like family:-). The pianos in this picture are just a very small representation of the wonderful collection of rare pianos they have lovingly restored. And the best part? They aren't just for show, they actually get played!

I've even played some of them myself, but somehow Moon Dance just doesn't do them justice. Luckily the Fredericks put on concerts using pianist who can play the right period pieces.

Please take a minute to visit this thread... Fredericks Historical Pianos Collection to learn more about this amazing collection, and the recital to help the Fredericks continue their mission.

---
Concerts and Events


Beethoven Concerti at Kaufman Center
Beethoven's piano concerti are a testament to the composer's enormous creativity and his undisputed place in the piano repertoire. Like his symphonies and sonatas, the piano concerti not only are the cornerstones of the classical style, but also forge the way to the Romantic period.
On Thursday, August 13, 2009 7pm at Merkin Concert Hall (129 West 67th Street NYC) The Piano Passions' More Details Beethoven's Piano Concerti

Waves of Inspiration: The Legacy of Moog / At the Museum of Making Music in Carlsbad, CA
Keith Emerson will be playing there the opening weekend in August!
Details - Waves of Inspiration / Moog / Emerson

Speaking of Keith Emerson...
Keith Emerson was at Winter NAMM 2009, and Nobody Told Me ?!?
Emerson at NAMM
What's the matter with you people! Geesh.

Cape Cod Super Piano Gathering Is Only About 10 Weeks Away!
- Mark your calendars for Columbus Day Weekend 2009 -

Yes, those wonderful folks down on Old Cape Cod are hosting another 2 day event. This is one piano party you just gotta attend.
If you've attended one of their previous parties, you know how much fun it is, so start planning to attend this one. If you haven't been to one, here's your chance!
Please respond to this thread so our hosts can get an idea of how many people would like to come. Cape Cod Piano Party Info & Sign Up

Here are some Pictures from Previous Cape Parties to entice you...

Cape Cod Shoreline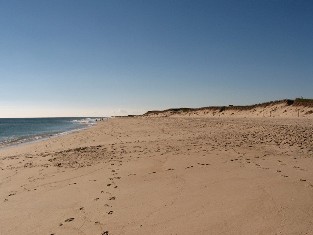 A Group Mug Shot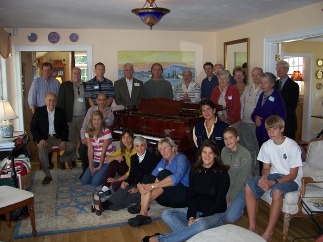 Just One Example of the Great Food at the Parties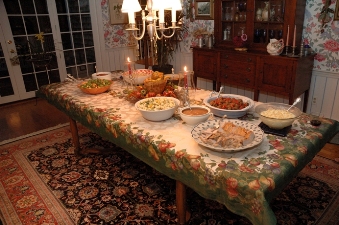 For more info, and a link to lots of picts and reports on our last party on the Cape... Cape Cod Piano Party Info & Sign Up

Speaking of tours and parties... If you'd like to host a Piano Forums party, a concert, or a factory tour, please let us know, or post something Here

If You Know About Upcoming Concerts, Recitals, Competitions, Factory Tour, etc. --- Please Share! We're happy to post details about piano concerts, recitals, competitions, interesting news, etc. Let us know so we can all share. Here

Let me know if you'd like to post an event on our Calendar, and/or have it mentioned in our newsletter. Email Frank B.


---
PianoSupplies.com
A Division of Piano World
(advertisement)
---
More Misc. FUN Stuff


Free Pianos Beg Londoner's to Play
This is older news now, but I still found it entertaining... Free Pianos in London

Let's Talk Weddings
Let's talk about funny experiences playing at weddings... Funny Wedding Stories This thread is still going, feel free to jump in with your story.

Pianos Status in U.S. Living Rooms Declining
(An article in the LA Times)
Piano Status There was a previous discussion on this in May, wanted to see if there were any other/new opinions.

Our Road Trip in July I know, I'm supposed to post pictures and stuff about our road trip in July.
I'm still trying to get caught up around here (that will teach me to take two weeks in a row on the road).
We had a great time meeting with forums members (Hi Lilylady, TerryTunes, BeeLady), piano store people (Allegro Piano - Stamford, CT, thanks Ori & Rebecca / Faust-Harrison - NY,NY, thanks Paul /Beetoven's - NY,NY, thanks Carl, a pleasure as always / Cunningham Piano - Philly, thanks Rich G. & company [I can still taste that Philly Cheestake]. Unfortunately Bechstein was closed and the young man there wouldn't invite us in, although he did open the door and say hello (Faust-Harrison was closed, but Paul welcomed us in anyway) and the man in Kavier House chose to ignore us completely.

Also had a great time visting some historic places (Savannah, GA , St. Augustine, FL). Will post picts and stuff when time allows.

What About the Other Places on Piano World?
I ask this question every so often because you'd be surprised how many people think Piano World is just the Piano Forums. Not so. I spent years building the other 1000+ pages of Piano World, please feel free to explore.

Things like:
Online JigSaw Puzzles with a music theme
You can even submit pictures of your own for consideration in making new puzzles.

Word Search Puzzles (also musical) Print them out and have at it!

A Virtual Java Piano For when you really need to pick out a melody, but no instrument is available.

Check Out our Directory for Lots More to See and Do Or explore the lists in the left side navigation on the main Piano World site.
---
Advertise on Piano World


It is more important now than ever to invest your advertising dollars wisely.

Of course you want to reach the maximum number of prospective customers for the least amount of costs.

That's where Piano World comes in!

We are the world's most popular piano web site.
As such, we enjoy top rankings in the major search engines for any number of piano related searches.

We are also a destination web site. In other words, people hear about us (on the web, in print, through their friends, neighbors, teachers, etc.) and seek us out.

Consequently we can consistantly deliver high quality targeted leads to help grow your business. Whatever your offiliation with the piano business (dealer, tuner, mover, teacher, restorer, etc.) we can help.

Most piano related businesses who advertise with us quickly realize the value of putting their business in front of our huge audience of piano lovers.

And now we are making it even easier by giving you the tools to create and edit your own ads. That's right, we've hired a programmer to create the tools you need to set up your ad, and because it's your account, you can log in and change/update your ad(s) any time. This new system went live the end of April for Dealers and Tuners, other categories will follow soon after.

What are you waiting for? Advertising Information page at: www.PianoWorld.com/advertising for information about placing an ad in our Classified's button display ads on the forums and/or run of site, or in this newsletter.
[Note: we do not sell, rent, or share our members/visitors emails]

---
Need Something?


If you are looking for a professional Piano Dealer, Tuner, Mover, Teacher, Restoration Shop, etc., please try our Classified Ads first.
These folks are all professionals in the business, and kindly pay us to Advertise on Piano World (which helps support PW and the forums).
---
In Closing


As always, if you have any ideas or suggestions for the next issue of our newsletter, the Piano Forums, or Piano World, please let me know (webmaster@pianoworld.com)
You can find previous issues (and a copy of the current issue) of our newsletter here ... Newsletter Archives

Remember:
It's Fun to Play The Piano ... Pass It On!

Warm Regards,

Frank Baxter
Founder / Host
Piano World & the Piano Forums
43,000+ Forums Members, Over 1 Million Posts, and still growing!
webmaster@pianoworld.com
Piano World On:
Twitter .. Twitter.com/PianoWorld
Facebook ... Facebook.com/PianoWorldDotCom