In-Tune, the Piano World Piano Forums Newsletter
Jan. 04, 2008
About "In-Tune"
In-Tune is the newsletter for piano lovers, and is a Piano World production. It comes out regularly, make that semi-regularly, ok... when I have time :-)

Much of the material for In-Tune comes from our world famous piano forums.



Check the In-Tune Newsletter Archives to see what you've been missing and catch up on what's been happening!



This is our first Newsletter of 2008, I hope 2008 is a great year for all of you!
---
PIANO PARTY TIME!



Saturday, January 19, 2008 - SoCAL
SoCA NAMM Piano and Book Signing Party

One and all are cordially invited to attend a party in celebration of Perri Knize's new book GRAND OBSESSION, and the glory of pianos, along with music in general on Saturday, January 19, 2008, commencing at approximately 6 PM.

The author herself will be there to sign books and mix with us common folks :-) (Yes, I will be there)
Attendees of NAMM are encouraged to join us and will be excused if they show up a bit later than that.
SoCA 01/19/08 Party Details Here
Member PianoPeddler suggested a group of us may want to meet up at the Piano Travelers party and car pool to the party.

Also see Jan. 11th & 12th events in NY under GRAND OBSESSION below.

Picts and stuff from our party at Larry Buck's place last month...
Piano Gathering - Lowell, MA 12/1/07

---
GRAND OBSESSION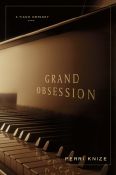 GRAND OBSESSION
A Piano Odyssey
by PERRI KNIZE

GRAND OBESSION is now available from Amazon.com!
(check out the reviews)

New Excerpt Posted!
We've posted another chapter excerpt from GRAND OBSESSION today.
Read about the famous "Piano Forums Piano Crawl", plus excerpts from 3 other chapters.

January 11th, 7 pm, Barnes & Noble Lincoln Center, New York, NY, Perri Knize reads from "Grand Obsession: A Piano Odyssey" Piano party, book signing, and piano performance. Details are HERE or by visiting the author's web site. www.grandobsession.com and click on the "news" page.

January 12th, 1:30 to 6:30 pm, Piano Row, West 58th Street between 7th Ave. and Broadway, New York, NY.
First "Pianothon" block party, celebrating the publication of "Grand Obsession: A Piano Odyssey" by Perri Knize and the launch of the Piano Row Association. Piano performances, technical demonstration, talks, readings, book signing, and piano crawl among the four showrooms of Piano Row. Details are HERE or by visiting the author's web site. www.grandobsession.com on the "news" page.
---
(Advertisement)
How to WIN at Piano Lessons: Successful Piano Instruction Strategies for Non-Mozarts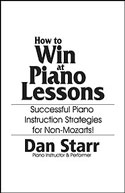 The title says it all.

It's a manual on HOW to take piano lessons so that you actually do learn to play the piano. It covers topics such as how to practice correctly, how to maintain a positive attitude, and how to improve your reading of music - subjects that most piano books only mention in passing, if at all.

Read the Table of Contents and first chapter FREE... Downloadable NOW.

---
NAMM 2008!


Yikes! It's hard to believe but the time is almost here. The 2008 NAMM show starts in less than 2 weeks.

As is the case every year, I look forward to seeing old friends, and meeting new ones.

I know everyone is very busy during the show, but I'd love to meet you while I'm there. Please let me know if you'd like to get together, or if that isn't possible, let me know what booth you're in so I can stop by and say hello.

Some folks from the industry have asked about getting together to discuss promoting their business on Piano World (smart move :-). By all means, I'd be happy to meet up to discuss business, or just to grab a bite (and/or a drink). Feel free to contact me ( webmaster@pianoworld.com ), or start a thread on the forums.

And, speaking of meeting members, I'm planning on visiting my sister in Pompano Beach,FL in late January or early February. I'll also be visiting an old friend in Homosassa (sorta near Tampa). Again, I'd be happy to try to meet up if anyone is interested.

Speaking of the NAMM Show...
Whisperings: Solo Piano Radio" at the 2008 Winter NAMM Show ... Including our own members, David Nevue and Joe Yamada. Details Here

And:
Perri Knize, author of GRAND OBSESSION (A Piano Odyssey) will be at the Grotrian Booth signing copies of her book. Make sure you drop by and say hello (and pick up a copy or two :-)
---
Mason & Hamlin Piano Factory Tour - 2008!



It's Official!
I received a nice email from Cecil Ramirez (National Sales Manager) yesterday.
The official date for the 2008 tour is Monday, May 12, starting promptly at 9:00 a.m.

Read about this wonderful tour (and sign up to join us) here... M&H 2008 Factory Tour
The tour fills up quickly, so don't wait, sign up today!

If you are not from the Boston area, read this post to Help You Understand Bostonian's

Rumor has it that our own party organizing Queen, TerryTunes is working on organizing a couple of other events around the M&H tour dates. Watch the Mason & Hamlin thread for updates!
---
PianoSupplies.com
A Division of Piano World
(advertisement)
---
Some Fun Stuff


Piano Tooner's
What Animals Do When You're Not Home
Just for the Fun of It - Forums
Who Visits Piano World? If you've ever wondered where our members/guests come from, this post will help.
The Music Trades Magazine ran a story about our own BradKY (the young man our members helped to get a piano)

Do you check the Daily Topics link? (there is one located in the "What's Hot" box at the top right of the page).
The Today's Daily Topics section lists all the topics that are being discussed ... today (Duh).

Speaking of Helpful Threads :-) We are always looking for good helpful posts to add to our FAQ sections. If you have suggestions for particularly helpful threads, please see This Post
---
The Numbers Game


What would an issue of the Piano Forums newsletter be without my posting some numbers? (Don't answer that).
We set a new record in December for page views on the Piano Forums themselves. 1,933,745 forums page views (or an average of 62,378 page views a day).

Piano World overall had 5,058,371 page views in December (163,173 page views a day, or 6,978 page views an hour, or 113.3 page views a minute).

Hits (which I no longer count) were 25,144,878 and we used 204.03 GB of bandwidth.

We also passed the 27,000 registered members mark, and should reach 28,000 registered members in the next week (we were at 27,910 when I put this newsletter together).

We've also passed the 900,000 posts mark, slowly working our way up to the first million :-)
---
Advertise on Piano World


If you are in the piano and/or music business and you would like to reach our music loving audience, please visit our Advertising Information page at: www.PianoWorld.com/advertising for information about placing an ad in our Classifieds or in this newsletter.
[Note: we do not sell, rent, or share our members/visitors emails]

The Piano World web site (including the forums) averages well over 4 million page views a month, with upwards of 300,000 unique visitors. Our newsletter (the one you're reading now) goes out to over 25,000 music lovers.

Piano World pages listed (indexed) in the major search engines...
MSN has 7,780
Yahoo has 7,903
Google has 63,500

We offer very effective classified/display ads, run of site, and spots in this newsletter.
---
And You Call Yourself a Forums Member?


What? You are a Piano Forums member but you don't have your offical Piano Forums Lapel Pin????
Better Order Your Pin Today!



Speaking of the Piano Forums, the company that takes care of our server (the computer we use to serve up Piano World) tells me it's time for a new, more powerful server (because of the heavy traffic).
It is likely going to run us a couple of thousand dollars to purchase and get it set up, including some new fail-over protection.
Money is tight, so if you'd like to help us out and show your support of the Piano Forums, please visit This Page for some suggestions.
Thank You.
---
IMPORTANT NEW DVD!
(advertisement)
The Craft of Piano Playing: A New Approach to Piano Technique, promises a "guaranteed huge improvement to your piano sound" (PianoNews, Germany).

Alan Fraser's exercises accessing the hand's natural structure and function are a " 'must have' for any pianist wanting to master their technique" (La Lettre du Musicien, France).

Watch the Demo at the Maple Grove Music Productions website, Read Reviews, or purchase the DVD at our Online Store.

---
Trade Regrets


I'm sorry to report we've lost (as one member put it) a giant in the industry.
William J. McCormick, Jr, owner of Jordan Kitts has passed away.
There is a thread posted Here with details.
---
Need Something?


If you are looking for a professional Piano Dealer, Tuner, Mover, Teacher, Restoration Shop, etc., please try our Classified Ads first.
These folks are all professionals in the business, and kindly pay us to Advertise on Piano World (which helps support PW and the forums).
---
In Closing


As always, if you have any ideas or suggestions for the next issue of our newsletter, the Piano Forums, or Piano World, please let me know (webmaster@pianoworld.com)
You can find previous issues (and a copy of the current issue) of our newsletter here ... Newsletter Archives

Remember:
It's Fun to Play The Piano ... Pass It On!

Warm Regards,

Frank Baxter
Founder / Host
Piano World & the Piano Forums
webmaster@pianoworld.com