In-Tune, the Piano World Piano Newsletter
Feb. 22, 2007
About "In-Tune"
In-Tune is the newsletter for piano lovers, and is a Piano World production. It comes out regularly, make that semi-regularly, ok... when I have time :-)

Much of the material for In-Tune comes from our world famous piano forums.

In-Tune Newsletter Archives
---
The 2007 Post NAMM Show Contest - POLL


VOTE! For the winners of our first ever annual Post NAMM Contest! Post NAMM 2007 Contest Poll
Please visit the link above to view the entries and cast your vote.
Our thanks to everyone who entered a picture in the contest.
My apologies if your picture didn't make it into the contest. All pictures needed to be posted in the contest thread itself. If you sent it directly to me, I may have missed it (you gotta bug me about these things).
---
Concerts & Recitals


Know about an upcoming concert or recital? Post it ... HERE
If you know of any good concerts and/or recitals coming up, please take a minute to share the information with our members and guests.
We can also add it to our calendar (see next topic)
---
Calendar:


Do you use our Calendar? (take a peek)
If you would like to post something to our calendar (a forums party, concert, recital, etc.), let us know here... Calendar Postings
---
Fender / Meguiar's Perfection Piano Care Kit
(advertisement)


By popular request, we are extending our free shipping offer on the Fender / Mequiar's Piano Care Kits!
See this page for details about this kit...
Piano Care Kit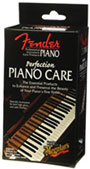 From now until February 29, 2007 ... Order the Fender/Meguiar's Piano Care Kit (and optionally add the Ultimate Wipe Polish Cloth) and pay no shipping costs! (U.S. customers only)

This is only valid for purchase of the Fender/Meguiar's polish kit (and optional Ultimate Wipe polish cloth), and expires midnight EST February 29, 2007. Polish Kit

---
Mason & Hamlin 2007 Tour Update


A couple of people had to drop out, so we have just a few openings.
It's less than 10 weeks until we take the 2007 tour (May 2)!
If you've ever wondered how quality pianos are built, here's your chance.
It's a great time, and they even feed us :-)
Read More & Sign Up for the Tour
---
Nora - The Piano Playing Cat
You have to see this one! It's a riot
Nora The Piano Playing Cat (It's a real cat)
This cat actually plays the piano, she even does a duet with a student. The look on the cat's face is priceless.
By the way, if you like this video and would like to share it with your friends (we hope you do), simply click the
button displayed below the video.
This button is available on most pages of Piano World. It will automatically pick up the URL of the page it's displayed on, and gives you a way to easily send that pages link to up to 4 friends. Feel free to use it often.

---
A New Number


3/4 Million Posts!
We passed the 3/4 million posts mark on February 21, 2007. Wow you folks like to talk.
More data about piano site rankings thread ... Piano Site Rankings
---
Please Support Our Advertisers


PW is supported in (large) part by our advertisers. Please see our classified section if you are looking for a Piano Dealer, Mover, Tuner, Teacher, Restorations, etc. Classified's
---
Take the Live Chat, Live Recitals, Live Concerts Poll!


I'd like to get some feedback from our members. I'm curious to find out if there is any interest in our having Live Chat sessions, and also Live Recitals and/or Live Concerts.
Judging by the responses we've had so far, it appears a lot of people would have at least some interest in some of these options. (none of them will replace the forums, the forums will remain as they are).
Please read more and take the poll HERE
---
Attention: Professional Piano/Keyboard Musicians


One question I'm often asked is "Who belongs to the forums?" . By this they usually mean, what professionals in the business.
I'd like to create a section on Piano World listing the professional piano/keyboard players who belong to our forums.

I think it would be interesting to our members, and propective new members, and it would be good exposure for you.

Ideally I'd like to post your name, screen name, web site URL, and a short bio.
The primary criteria is that you make your living playing.
I might want to put them in categories, but that could prove challenging (concert artists, jazz pianists, rock musicians, etc.).

If you'd be willing to participate, please send the information to me, and make sure you put Artist in Residence - Piano Forums as the subject line. webmaster@pianoworld.com
---
Speaking of New Professional Members


Please Welcome our newest concert artist member, Jeffrey Biegel
Jeffrey has a very impressive bio, and based on the posts in this thread, has obviously impressed a number of our members. Although he has many wonderful accomplishments to his credit and is obviously a major artist in the industry, he impressed me the most when he said he knew, and may tour with... Keith Emerson! Yikes! (Sorry Jeffrey, but I'm a Keith Emerson nut).

Do yourself a favor, download some (or all) of his performance samples here... www.cyberecital.com/performance.html

And, please welcome new member Oliver Sheen
Click the link to his web site, and read his bio (particularly some of the people he has performed for).
---
Videos, MP3s, Links???


Where's those entries for our new Video and MP3 links section??
We recently created a new section on Piano World for submitting YouTube videos, or links to MP3s, etc.
The idea was to have one place, categorized, where we could keep all these great things that usually get lost when a thread drops off. See More Here
Or visit the Links Section here
---
Fun Videos


Ok, if you aren't going to post any, I will :-)

You can view a couple of fun Scott "The Piano Guy" Houston videos here... Scott Houston
If you ever need an assistant Scott :-) [view the Oksana video, you'll know why I said that]
Thanks to members Seaside_Lee and ShiroKuro for finding these.
Scott is a member of our forums.
---
Wiki - Wiki - Wiki !


Still need help with the Piano Wiki
This is our answer to the wikipedia :-) Won't you please help us build it? Wiki Info
---
Congratulations!


Congratulations to our latest "new" piano owners (new, or new to you).
It always brings a smile to my face to read your posts, and see your pictures.
So, if you've recently purchased a piano, or are about to, please be sure to let us know all about it (and don't forget, we love pictures).
Like these from members Insanity & M&HAAdriver
---
Our Online Store (advertisement)
Piano Accessories and Music Gifts


Visit our online store PianoSupplies.com
Benches - Lamps - Cushions - Piano Polish - Caster Cups - Music Stands - Metronomes - Tuning Equipment - Piano Moving Equipment - Piano Wire - More
---
Searching For Answers?


Are you trying to find answers to a specific piano-related question?
You have a number of options. Your question may have already been answered in one of our FAQ forums, found in the "Information" section (3rd section down) on the main page.
Or, you can try our Search options. You can get to our search options from the [Search] link near the top of the main page, or from the "Search Options" link in the "What's Hot" box (upper right of page). Both of these links open a new page with a number of options. You can choose to search just the forums, or all of Piano World, PianoSupplies.com (our online store), Google, Amazon.com, and more. Try It.
Of course, if that doesn't work, you are always welcome to post your question(s) on the forums.
---
Advertising on Piano World


If you are in the piano and/or music business and you would like to reach our music loving audience, please visit our Advertising Information page at: www.PianoWorld.com/advertising

The Piano World web site (including the forums) averages well over 3 million page views a month, with upwards of 300,000 unique visitors. Our newsletter (the one you're reading now) goes out to over 25,000 music lovers.
[Note: we do not sell, rent, or share our members/visitors emails]


We offer very effective classified/display ads, run of site, and spots in this newsletter.
---
In Closing


As always, if you have any ideas or suggestions for the next issue of our newsletter, the Piano Forums, or Piano World, please let me know (webmaster@pianoworld.com)
You can find previous issues of our newsletter here ... Newsletter Archives

Remember:
It's Fun to Play The Piano ... Pass It On!

Best,
Frank Baxter
webmaster@pianoworld.com