In-Tune, the Piano World Piano Newsletter
Post-NAMM Show 2007
About "In-Tune"
In-Tune is the newsletter for piano lovers, and is a Piano World production. It comes out regularly, make that semi-regularly, ok... when I have time :-)

You Are Receiving This Newsletter Because... at one time you visited Piano World and gave us your email, or you signed up for our newsletter, entered our contest, joined our forums, etc.
If you received more than one copy, I apologize, you shouldn't receive more than two (but hey, feel free to share them with your friends).
If you no longer wish to receive the newsletter, remove instructions are at the bottom (but please give it a chance first, we'd hate to see you go).

Much of the material for In-Tune comes from our world famous piano forums.

In-Tune Newsletter Archives
---
The 2007 NAMM Show


It was another great show!
I met up with old friends, and made some new ones. I had drinks with Scott "The Piano Guy" Houston (even better, he paid). He really is as nice as he appears on TV.
Caught up with Dr. Laul and his Dad (Estonia), and our friends from Mason & Hamlin, had a nice chat with Steve Cohen and The Piano Peddler (among others).
The entertainment at the Marriott Suites was interesting. I was standing out front one evening, smoking my pipe, when two police officers road up on horseback, dismounted, and read the riot act to a young "lady of the evening" who made the mistake of hanging around in front of the hotel. Considering many of the hotel guests were families in town to visit Disney Land, she didn't pick a very good place to hang out.
I chose to spend the time visiting the horses, one was a white Arabian, gorgeous animals.

Enough rambling, you can read the rest of my reports and see some pictures here: Post NAMM 2007 Reports
---
The 1st Annual Post NAMM Show Contest


Speaking of the NAMM show, our very first annual NAMM Contest has started.
Win great prizes! NAMM Contest
---
Fender / Meguiar's Perfection Piano Care Kit
(advertisement)


By popular request, we are bringing back our free shipping offer on the Fender / Mequiar's Piano Care Kits!
See this page for details about this kit...
Piano Care Kit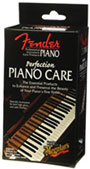 From now until February 29, 2007 ... Order the Fender/Meguiar's Piano Care Kit (and optionally add the Ultimate Wipe Polish Cloth) and pay no shipping costs!
Continental U.S. only, you MUST enter FREESHIPPING in the coupon box during check out.

This coupon is only valid for purchase of the Fender/Meguiar's polish kit (and optional Ultimate Wipe polish cloth), and expires midnight EST February 29, 2007. It cannot be combined with any other offers. Polish Kit
---
Mason & Hamlin Tour Reminder


There are only a few open spots for the 2007 factory tour.
It's less than 11 weeks until we take the 2007 tour (May 2)!
If you've ever wondered how quality pianos are built, here's your chance. Read More & Sign Up for the Tour
---
Amber Alerts - Email Alerts


We were going to start a separate email list for Amber Alerts, but I realized the Amber Alert system maintains its own email system.
Please read more here... Amber Alerts
---
A Few More Numbers


Our Forums membership is now at 21,000+ registered
Over 51 million page views of the forums since we started the new forums.
We are fast approaching the 3/4 million posts mark.
I've added some more data to the piano site rankings thread ... Piano Site Rankings
---
Please Support Our Advertisers


PW is supported in (large) part by our advertisers. Please see our classified section if you are looking for a Piano Dealer, Mover, Tuner, Teacher, Restorations, etc. Classified's
---
Videos, MP3s, Links???


Where's those entries for our new Video and MP3 section??
We recently created a new section on Piano World for submitting YouTube videos, or links to MP3s, etc.
The idea was to have one place, categorized, where we could keep all these great things that usually get lost when a thread drops off.
See More Here
---
Wiki - Wiki - Wiki !


Still need help with the Piano Wiki
This is our answer to the wikipedia :-) Won't you please help us build it? Wiki Info
---
Congratulations!


Congratulations to our latest "new" piano owners (new, or new to you).
I've noticed quite a few posts over the last few weeks from folks who have purchased a new piano. It always brings a smile to my face to read your posts, and see your pictures.
So, if you've recently purchased a piano, or are about to, please be sure to let us know all about it (and don't forget, we love pictures).
---
The Piano Playing Pig


What? You haven't tested your skills against the Piano Playing Pig Yet?
See what I'm talking about here... Piano Playing Pig
---
Searching For Answers?


Are you trying to find answers to a specific piano-related question?
You have a number of options. Your question may have already been answered in one of our FAQ forums, found in the "Information" section (3rd section down) on the main page.
Or, you can try our Search options. You can get to our search options from the [Search] link near the top of the main page, or from the "Search Options" link in the "What's Hot" box (upper right of page). Both of these links open a new page with a number of options. You can choose to search just the forums, or all of Piano World, PianoSupplies.com (our online store), Google, Amazon.com, and more. Try It.
Of course, if that doesn't work, you are always welcome to post your question(s) on the forums.
---
Advertising on Piano World


If you are in the piano and/or music business and you would like to reach our music loving audience, please visit our Advertising Information page at: www.PianoWorld.com/advertising

The Piano World web site (including the forums) averages well over 3 million page views a month, with upwards of 300,000 unique visitors. Our newsletter (the one you're reading now) goes out to over 25,000 music lovers.
[Note: we do not sell, rent, or share our members/visitors emails]


We offer very effective classified/display ads, run of site, and spots in this newsletter.
---
Do You Like To Chat?


I am working on some new Chat software, expecting to have it up and running later this week.
We will be able to create chat rooms where you can chat with other members in real time.
I'm hoping we can entice some of our talented members to occasionally host a chat session (what do you say Scott, Del, Larry, ... ?). Stay tuned for more on this.
---
Survey Says?


We are going to be conducting a survey soon. By taking the survey you will automatically be eligible for great prized, including cash! Stay tuned for more.
---
Welcome New Members!


A warm welcome to the new members who have joined us since our last issue (Jan. 16, 2007). All 503 of you!
---
In Closing


As always, if you have any ideas or suggestions for the next issue of our newsletter, the Piano Forums, or Piano World, please let me know (webmaster@pianoworld.com)
You can find previous issues of our newsletter here ... Newsletter Archives

Remember:
It's Fun to Play The Piano ... Pass It On!

Best,
Frank Baxter
webmaster@pianoworld.com