In-Tune, the Piano World Piano Forums Newsletter
August 2009
About "In-Tune"
In-Tune is the newsletter for piano lovers.

Much of the material for In-Tune comes from our world famous piano forums.



Check the In-Tune Newsletter Archives to see what you've been missing and catch up on what's been happening!


---
Forums Looking Different to You?



If the Piano Forums look different to you now, it may be because we've changed the default look and feel to the Coffee "skin". I took a vote and Coffee won out by almost a 2-1 margin over the next choice. Of course you can choose your own preference for the look and feel.

Just click My Stuff (at the top of the page), then Edit Preferences, and finally, chose your favorite from the Your preferred stylesheet drop-down list.
When you're done, click Submit at the bottom of the page.
---
Piano Forums Piano Cruise - There is Still Time to JOIN US!

What, you haven't signed up for our cruise yet? Well get with it!
The prices have actually gone down some since we started, everyone who acts before Aug 25 will get the lower price after that the price could change.

Sign up know before they are all gone! You only need $250.00 per person to reserve a space, the balance isn't due until November. Come on everyone, this is going to be fun!

Bill (our agent) has confirmed... we will have access to real pianos and real fun.
And the first 20 people to sign up will receive a official Piano World T-shirt, and a official Piano World hat.
Plus, as we get more people signed up, Bill will get more goodies for us.

Read about the cruise and the ship details ... Piano Forums Piano Cruise
---
We're Famous!



Well, ok, almost.
Our own ABF (Adult Beginners Forum) showed up in an article in Clavier Companion magazine.
Read About It Here

If you see us mentioned anywhere else in print, please let us know.
And if you have any connection to any music related publications that you might be able to get us into, please go for it.
---
Keith Emerson in Carlsbad, CA



Don't forget, Keith Emerson will be live and in person at the Museum of Making Music in Carlsbad, CA Saturday August 29th.
I so wish I could be there. If you are going, make sure you get pictures, and tell Keith I said hello.
More Details About Keith Emerson Appearance Here
---
advertisement
World renowned concert artist Jeffrey Biegel Reaches Out to Students via Skype!

A distinguished Professor of Piano at Brooklyn College in New York, and protege of the legendary teacher, Adele Marcus at The Juilliard School, Mr. Biegel now offers online interactive lessons for pianists and teachers alike.
Preparing for a competition?
Preparing for a recital or concerto appearance?
Want to improve your playing to teach your students?
Questions about specific repertoire you are learning, teaching or performing?
Jeffrey Biegel has opened his studio worldwide through the technology of the internet. Having created and performed the first live audio/video concerts on the internet in 1997, Mr. Biegel is now able teach on a global level.

Need to brush up on your technical abilities? Need assistance in putting programs together, and audition materials? You can benefit from the life and career of Jeffrey Biegel.
This is not one of those canned video presentation, this is Live, Interactive, Online Lessons! Special Introductory Pricing!
---
Misc. Interesting Threads & Stuff


The Pope keeps his piano tuned, do you?
It appears the Pope takes good care of his piano, shouldn't you? Pope Piano.

Classic 60s song's organist wins royalties battle
Some things take a while. He wrote a piece most of us (at least those of us over the age of 40) would recognize in the first measure. 60's Organist Wins

Brilliant Pianist Causes LaGuardia Bomb Scare
I know, just how brilliant could he be? I was recently in the very same NY piano store he frequents (or should I say, use to frequent?).
LaGuardia Piano Bomber

Have you checked out our Who's Who on Piano World forums yet? Who's Who?
Don't forget, if you make your living primarily from playing (piano, organ, keyboard) you can add your profile.
Good free publicity for you, interesting information for us.

Great Piano Commercial
Thanks Rich Galassini and Phil Bondi for pointing this out. The commercial is not selling any brand. Watch it and see.
Piano Commercial You Gotta See

For those who have been asking about Skype/Internet Piano Lessons Forums member Lilylady talks about her experience taking a live lesson online from concert pianist (and forums member) Jeffrey Biegel.
Skype Piano Lesson Review

As long time member Steve Cohen points out in This Post we are rapidly approaching the 1,250,000 posts mark!

---
It's Official - Larry Fine's New Piano Buyer Online Book is Live



Many of you are familiar with Larry Fine, author of The Piano Book. If you've been on the forums lately you may have seen discussions about his new venture, Acoustic & Digital Piano Buyer.
Taking a different approach from previous years, Fine is making this publication available online - Free.
For those who prefer having a hard copy in your hot little hands, you can also order a print version of the new publication.

Larry's Announcement on the Forums is Here

And his Special Letter to Piano World Members is here
The letter explains why the new format, and addresses some questions that were raised on the forums.
We wish Larry et-al success with this new venture.
---
NAMM 2010 - Anaheim, CA



I know, you're rolling your eyes and thinking, NAMM 2010? That's a long time from now.
Oh no it's not! Booking for the hotels opens in less than 4 weeks, and the show itself starts in 147 days.
Let us know if you are planning on attending, or exhibiting. And by all means, let me know if you'd like to meet up while we're out there.
NAMM 2010 Thread

---
advertisement - Piano World is an affiliate
---
Have you recently purchased a piano (new to you)?



Let me know where your post is (or some details so I can find it). I'm thinking of creating special sub-forums under the Piano Forum and the Digital Piano Forum specifically for posts about piano purchases. We love stories about new piano owners (and pictures, don't forget picture), but they tend to get lost pretty quickly. It would be nice to have them in one place so others can share in your joy, and learn from your experiences. webmaster@pianoworld.com
---
Trade Regrets: Guitar & Music Legend Les Paul, Dead at 94



Les Paul was a legend in the music business. Although his focus was guitar, his many contributions to the industry went well beyond the famous Gibson Les Paul, including his teaming with Mary Ford to perform and record some of the biggest hits of the 50's.
More About Les Paul - and Some Goodbyes
---
Can You Help?



If you enjoy the Piano Forums, please consider doing a little something to help support them.
We are a small business that relies on revenue from our advertisers and sale in our online store.
We are surviving, but like most small businesses, money is tight.
Please visit our Help Support the Forums page for some suggestions of how you might help.
---
Concerts and Events



Sara Davis Buechner, the celebrated American pianist, will mark the 25th anniversary of her New York debut with an exciting recital at Merkin Concert Hall on November 11, 2009, at 8:00 p.m. The program features music of Bach-Busoni, Mozart and Martinu, as well as rare works of Miklós Rózsa, Japanese composer Kouji Taku, and delightful foxtrot arrangements by Ms. Buechner herself.
More Information about Sara Buechner Concert

THE INTERNATIONAL SOCIETY OF THE FRIENDS OF GYÖRGY CZIFFRA PRESENTS: Homage a Cziffra: "The Art of the Transcription" Details about Cziffra Transcription

Party Time in Stamford, CT! Sunday Sept. 13
Ori and Rebecca of Allegro Piano have invited all Piano World Piano Forums members to a party/open-house at their beautiful new piano store in Stamford, CT. They promised there would be a PWPF party and now it's finally happening.
I've toured their store and played some of the fantastic pianos in their two story showroom.
Talk about being a kid loose in a candy store!
It's an easy location to get to. Go, enjoy, and take pictures (we may be there too, not sure yet).
CT Party Details & Pictures

Cape Cod Super Piano Gathering Is Only About 8 Weeks Away! (Oct 10-11)
- Mark your calendars for Columbus Day Weekend 2009 and Join the Fun!-

Yes, those wonderful folks down on Old Cape Cod are hosting another 2 day event. This is one piano party you just gotta attend.
If you've attended one of their previous parties, you know how much fun it is, so start planning to attend this one. If you haven't been to one, here's your chance!
Please respond to this thread so our hosts can get an idea of how many people would like to come. Cape Cod Piano Party Info & Sign Up

Here are some Pictures from Previous Cape Parties to entice you...

Cape Cod Shoreline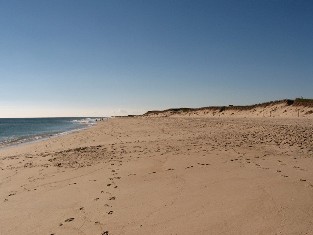 A Group Mug Shot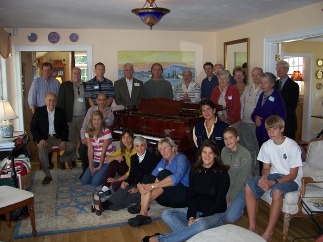 Just One Example of the Great Food at the Parties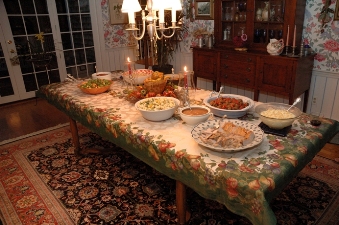 For more info, and a link to lots of picts and reports on our last party on the Cape... Cape Cod Piano Party Info & Sign Up

Speaking of tours and parties... If you'd like to host a Piano Forums party, a concert, or a factory tour, please let us know, or post something Here

If You Know About Upcoming Concerts, Recitals, Competitions, Factory Tour, etc. --- Please Share! We're happy to post details about piano concerts, recitals, competitions, interesting news, etc. Let us know so we can all share. Here

Let me know if you'd like to post an event on our Calendar, and/or have it mentioned in our newsletter. Email Frank B.


---
PianoSupplies.com
A Division of Piano World
(advertisement)
---
More Misc. FUN Stuff



Let's Talk Weddings
This one continues to attract funny/interesting stories. Funny Wedding Stories This thread is still going, feel free to jump in with your story.

With a Little Help From Our Friends

Each month I try to pull together some information I hope our subscribers will find interesting, informative, or just plain entertaining. I'm happy to do it, but I'm only one person. There are over 30,000 subscribers to this newsletter, not to mention 43,000+ members of the forums.

I could use a little help from our friends. If you spot a post that you think might be of interest to our subscribers, please let me know (webmaster@pianoworld.com .
Same thing goes for interesting articles, stories, clips, etc. found in print or on other sites.
If it's something you found not on our web site, please make sure you include all the details so we can credit the right original source, as content is often times under copyright.

Speaking of interesting posts, we are always looking for posts to add to our FAQ sections too.
With over 1.2 million posts, it takes a lot to slog through looking for answers. Moving particularly helpful threads to one of our FAQ sections helps new visitors/members find answers, and minimizes the need to keep posting the same answers to the same questions over and over. Again, please Let Me Know if you think you've spotted a good canditate. And PLEASE, include a link directly to the post.

What About the Other Places on Piano World?
I ask this question every so often because you'd be surprised how many people think Piano World is just the Piano Forums. Not so. I spent years building the other 1000+ pages of Piano World, please feel free to explore.

Things like:
Silly-Fun and Interesting Videos
Including the famous Nora-the-Cat, a hamster, a pig, and a pipe.

Online JigSaw Puzzles with a music theme
You can even submit pictures of your own for consideration in making new puzzles.

Word Search Puzzles (also musical) Print them out and have at it!

A Virtual Java Piano For when you really need to pick out a melody, but no instrument is available.

Check Out our Directory for Lots More to See and Do Or explore the lists in the left side navigation on the main Piano World site.
---
In the Piano Business? - Advertise on Piano World


It is more important now than ever to invest your advertising dollars wisely.

Of course you want to reach the maximum number of prospective customers for the least amount of costs.

That's where Piano World comes in!

Advertising Information page at: www.PianoWorld.com/advertising for information about placing an ad in our Classified's button display ads on the forums and/or run of site, or in this newsletter.
[Note: we do not sell, rent, or share our members/visitors emails]

---
Need Something?


If you are looking for a professional Piano Dealer, Tuner, Mover, Teacher, Restoration Shop, etc., please try our Classified Ads first.
These folks are all professionals in the business, and kindly pay us to Advertise on Piano World (which helps support PW and the forums).
---
In Closing


As always, if you have any ideas or suggestions for the next issue of our newsletter, the Piano Forums, or Piano World, please let me know (webmaster@pianoworld.com)
You can find previous issues (and a copy of the current issue) of our newsletter here ... Newsletter Archives

Remember:
It's Fun to Play The Piano ... Pass It On!

Warm Regards,



Frank Baxter
Founder / Host
Piano World & the Piano Forums
43,000+ Forums Members, Over 1 Million Posts, and still growing!
webmaster@pianoworld.com
Piano World On:
Twitter .. Twitter.com/PianoWorld
Facebook ... Facebook.com/PianoWorldDotCom