In-Tune, the Piano World Piano Forums Newsletter
About "In-Tune"
In-Tune is the newsletter for piano lovers.

Much of the material for In-Tune comes from our world famous piano forums.



Check the In-Tune Newsletter Archives to see what you've been missing and catch up on what's been happening!

- This is a Quick Update & Reminder Newsletter -
---
Parties, Concerts, and Tours ... Oh My!
Weekend In New England - May 10-12
This will be a fun weekend. It all starts in just over 2 weeks!

Sat. May 10th will be a tour of the famous Frederick's Historical Collection.
...a private PW tour of their historical piano collection at the study center on Saturday, May 10th in Ashburnham. Their collection dates from a Viennese Style Piano, c. 1795 to the 1907 Blüthner Grand. The Frederick's 3-hour tour of their 22 grand pianos, as described in their brochure; "introduces basic elements of piano-building, with musical examples played on each of a succession of instruments whose design priorities reflect musical tastes during many composers' lifetimes"
I've taken this tour, it's wonderful.

Sunday May 11th at 4P.M. the Frederick's will be hosting a concert
The concerts take place at a nearby church where the acoustics are phenomenal. A piano is selected by the guest artist according to the composer he/she will be performing and moved over to the church..
Details about the Fredericks' activities HERE

You can also visit the Frederick Piano Collection web site for more details about their collection and concerts.

Monday May 12th is
our annual tour of the Mason & Hamlin factory in Haverhill, MA.
We expect 40 Members/guests for the tour this year, our 5th year in a row.

If you already signed up, make sure your name is on the LIST

If you signed up and can't make it, please let us know right away so we can give your spot(s) to one of the alternates.

After the M&H tour on the 12th there will be a Piano Party at Larry Buck's Shop in Lowell, MA.
You do not have to be part of the tour to attend the party. Larry always hosts a great party, you can see some pictures and comments from one we had Last November
As a special treat, we are expecting GRAND OBSESSION author Perri Knize at this party. Perri will read from the wonderful book she recently published. (As I understand it, Perri will also be at the Frederick's events). Bring your copy of the book and have it signed by the author (I presume she will also have some available for those wishing to purchase, and it is available online and at various booksellers).
If you'd like to know more about Perri and GRAND OBSESSION, you can visit the following:
Reviews & Excerpts on Piano World.
Updates (on our forums).
The Author's Web Site

I hope to see you at these events (Frank B. Founder/Host Piano World)
---
(Advertisement)
Keep Your Piano "On Pitch" Constantly!


Thousands of Conservatories, Universities, Churches, Cultural Institutions, and Performance halls protect their valuable acoustic pianos with the Piano Life Saver System.

You, too, can enjoy stable pitch and tuning with the Piano Life Saver. Please visit www.PianoLifeSaver.com/reports
---
Piano Retreat


Some information about a Midsummer Adult Piano Retreat in the Berkshires.
Details Here

Concerts, Recitals, and Competitions...
Make sure you keep an eye on This Section of the forums.
And by all means, if you know about an upcoming concert, recital, or competition, please post the details in this area so we can share it with the other members and guests.
---
Party Pictures and Reports

We had a great party at CC2 and Chopin Lover's (Dan) house on April 12th.
Take a look at This Thread and you will see what I mean.
---
Free The Piano Player


This one stirred up some discussions, but hey, it's a Piano FORUM, discussions are what we do :-)

It is now widely acknowledged that classical music in America is in dire, even desperate straits. Critics, commentators, and managers have noted with alarm that concert audiences are aging steadily and that people under fifty seem disinclined either to attend classical-music events or to support the organizations that present them. Some presenters and performers have responded by seeking to change the time-honored institution of the solo recital in ways meant to make it less formal and more contemporary. Classical artists, for example, are now being advised to speak to their audiences from the stage, to play a fresher and wider-ranging mix of repertoire, even to employ up-to-date staging techniques.

Yet as anyone who keeps up with the programs in America's major concert halls is well aware, very few artists are taking this advice. Far more often than not, classical performers continue to come before the public dressed in more or less formal attire and to play two-hour-long programs consisting of three or four groups of pieces drawn from the standard repertoire and arranged in chronological order, never speaking a word out loud save to announce their encores.

Nor is this reluctance to break with tradition a function of age. The thirty-eight-year-old Norwegian pianist Leif Ove Andsnes, one of the most highly acclaimed classical performers of his generation, played a recital last month at Carnegie Hall that could have been given in 1968, or 1928: a Bach toccata, a Schubert sonata, Grieg's G Minor Ballade, and a group of Debussy preludes.

View the Rest of the Thread Here, and read the comments from our forums members.
---
(Advertisement)
How to Buy, Play, & Enjoy a Digital Piano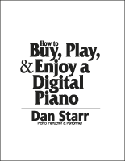 The title says it all.

It's a manual on HOW to actually take advantage of what a digital piano can offer. It covers topics such as how to shop for one and get the best deal, which features are useful and which useless, and how to use it to help you learn to play - and to maximize your enjoyment of making music.

Read the Table of Content and Introduction FREE here.

---
Fun and/or Interesting


Elvis Presley's 24K Gold Piano goes on Auction
More Here

Anybody know where to find Bed & Breakfasts with a piano?
You can read about one in Australia Here.
If you know of any, please add them to the above thread.
Along the same lines... Hotels with Practice Pianos?

Forums for our younger members?
One of our newer members (artobsessed) was asking about a forum geared more toward teens.
I'm not sure we need to add another forum, but we should make sure the under 20 set knows they are welcome (and there are other under 20 members). Initial Discussion Here

You think English is Easy??
Read This and Then Decide
---
PianoSupplies.com
A Division of Piano World
(advertisement)
---
Advertise on Piano World


If you are in the piano and/or music business and you would like to reach our music loving audience, please visit our Advertising Information page at: www.PianoWorld.com/advertising for information about placing an ad in our Classified's or in this newsletter.
[Note: we do not sell, rent, or share our members/visitors emails]

The Piano World web site (including the forums) averages millions page views a month, with upwards of 300,000 unique visitors. Our newsletter (the one you're reading now) goes out to over 25,000 music lovers.

Piano World pages listed (indexed) in the major search engines...
MSN has 7,780
Yahoo has 7,903
Google has 63,500

We offer very effective classified/display ads, run of site, and spots in this newsletter.
---
And You Call Yourself a Forums Member?


What? You are a Piano Forums member but you don't have your official Piano Forums Lapel Pin????
Better Order Your Pin Today!


---
Need Something?


If you are looking for a professional Piano Dealer, Tuner, Mover, Teacher, Restoration Shop, etc., please try our Classified Ads first.
These folks are all professionals in the business, and kindly pay us to Advertise on Piano World (which helps support PW and the forums).
---
In Closing


As always, if you have any ideas or suggestions for the next issue of our newsletter, the Piano Forums, or Piano World, please let me know (webmaster@pianoworld.com)
You can find previous issues (and a copy of the current issue) of our newsletter here ... Newsletter Archives

Remember:
It's Fun to Play The Piano ... Pass It On!

Warm Regards,

Frank Baxter
Founder / Host
Piano World & the Piano Forums
webmaster@pianoworld.com